'Yellowstone' Star Cole Hauser Knows Exactly What Rip and Beth's Dream Wedding Would Look Like
ARTICLE HIGHLIGHTS
The ranch hands of Yellowstone reveal who they think would throw Rip Wheeler's bachelor party.
Cole Hauser reveals what he thinks Rip and Beth's perfect wedding would look like.
Why can't Rip and Beth have a traditional wedding?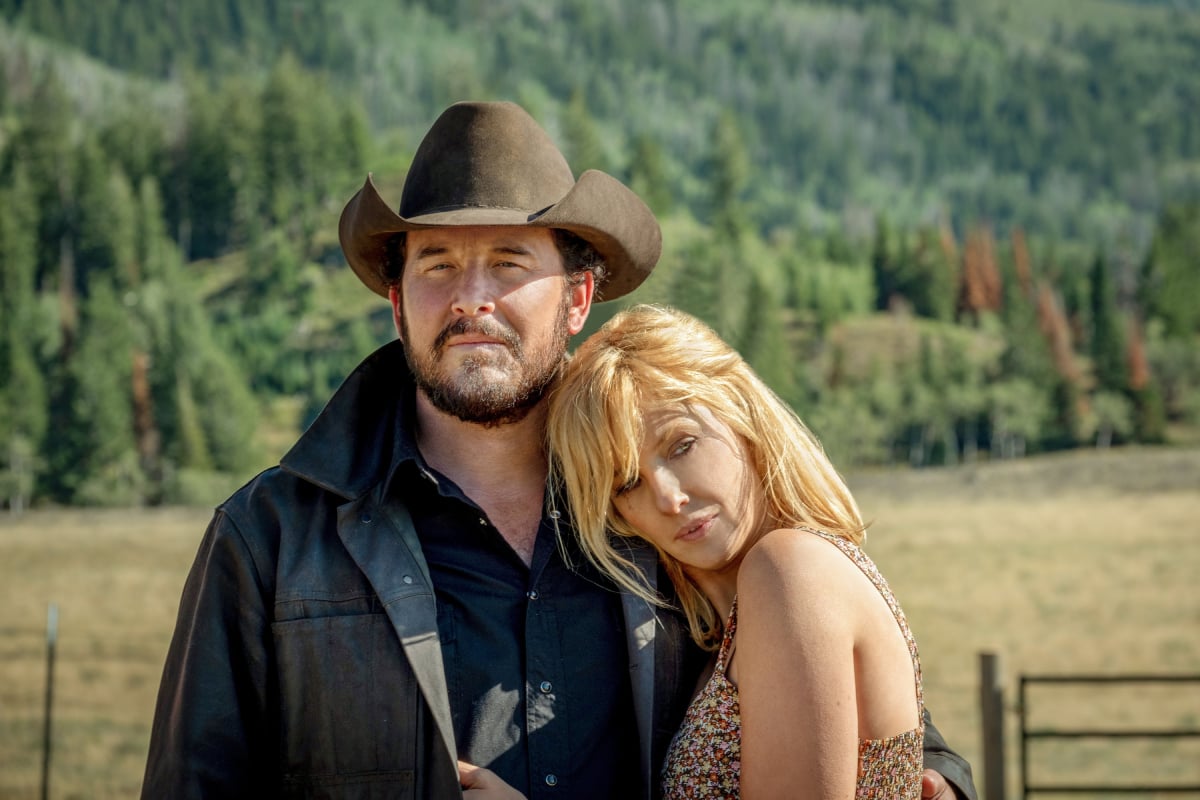 Yellowstone fans can't get enough of the romance between Rip Wheeler (Cole Hauser) and Beth Dutton (Kelly Reilly). They waited three whole seasons for the couple to make their relationship official. And at the end of season 3, they finally got their wish when Beth proposed to Rip. What would Beth and Rip's dream wedding look like? According to Hauser, it would be "just the two of them."
Which 'Yellowstone' bunkhouse resident would throw Rip Wheeler a bachelor party?
After the season 3 finale aired on the Paramount Network, a video from the web series "Stories from the Bunkhouse" featured Yellowstone actors talking about Rip and Beth's upcoming wedding.
Jefferson White, Ian Bohen, and Denim Richards — who play ranch hands Jimmy, Ryan, and Colby, respectively — watched the scene where Rip asks Lloyd (Forrie J. Smith) to be his best man. Then, they wondered if Lloyd would throw Rip a bachelor party.
"I think he would be in the bunkhouse, just pinning up just one ribbon, standing on a stool with like the spike in his mouth, extra beer and just be so proud of himself," Bohen imagined.
"And it would be the same bunkhouse right? Nothing is different, just one little ribbon," Richards added. "And it's like a rein, it's not even ribbon, it's just the reins from the horses and then he just ties them up."
Will the ranch hands be invited to Rip and Beth's wedding?
The trio also talked about the wedding itself, and wondered if Rip and Beth would invite them.
"Are we going to see the wedding?" Bohen asked. "Is it going to be a small intimate affair or is it going to be a giant party where the whole world is at?"
"I think we're not even gonna be there," Richards replied, with White adding, "I think we're catering."
'Yellowstone' star Cole Hauser reveals what he thinks their dream wedding would look like
"Gator's invited," Bohen said, in reference to Gabriel Guilbeau's character, and Richards seconded that notion. "For sure! We have a whole crew that we're gonna go in matching white shirts with the little cuffs."
"No coats, just the cummerbunds," added Bohen.
As for Hauser's thoughts on the matter, he recently told IMDb's Burning Questions, that Rip and Beth's dream wedding would have to be "on top of a mountain somewhere, just the two of them." He added that they would also probably have a "few libations, a bonfire, and a beautiful view."
Why can't Rip and Beth have a traditional wedding?
A traditional wedding with a certificate from the state of Montana is out of the question for Rip and Beth because there's no record of the cowboy's existence. As fans know, Rip's tragic childhood led John Dutton (Kevin Costner) to make some difficult decisions.
John had to erase Rip from the public record for his own protection. Meaning he has no birth certificate, so he cannot just go down to the courthouse and get a marriage license. But, a "real wedding" doesn't really matter to the couple.
Beth Dutton is trying to build a family in 'Yellowstone' season 4
Rip and Beth have been off and on since they were teenagers, and they are finally starting to build a life together in season 4. But, they aren't alone.
In the season premiere, Beth met teen boy Carter (Finn Little) at the hospital. She took him in because he reminded her of Rip. And Reilly says Beth really wants this family of three to work out.
"She's playing it cool, but she really wants it to work out," Reilly told TV Line. "We've had a little window into seeing her potential for real happiness. I'm not saying that domestic bliss is necessarily real happiness, but it's a tonic to the life that she's had. And it's really lovely to see Beth happy."
New episodes of Yellowstone air Sunday nights on the Paramount Network.
Source: Read Full Article