Who Is the Blurred-Out Merissa Who Spills the Tea About Victoria Fuller on 'The Bachelor'?
[Major Bachelor spoilers ahead!!]
Wow wow wow there was so much Victoria Fuller drama on hometown dates tonight, and I'm not just talking about the fact that Victoria fully ignored her dog and let it run into the ocean to give Peter a hug on the beach (that can't be safe, right?).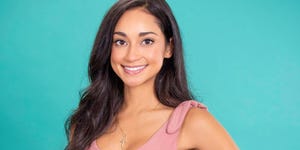 Anyways, as you probably know by now, the big Victoria bombshell of the night came from a mysteriously blurred out woman who approached Peter while he was on their hometown date to gave him an ominous warning. She told Peter, "I don't think you deserve what you're on a date with right now,"There's been many relationships broken up because of her," and "I would hate to see that come to fruition for you." So, yeah…this woman was *very* clear about her feelings for Victoria!
Here's a shot of our blurred out tea-spiller:
Honestly why blur out your face you just saved an entire nation be proud Merissa!!!!
#TheBachelor pic.twitter.com/UrF2SYkmIr
But, like, who is she and how does she have all of this tea? When talking to Peter, she revealed that she used to be friends with Victoria, and Peter also clued us in to the fact that her name is Merissa and she's from Virginia Beach. When he confronts Victoria about the whole home wrecker thing, he also mentions that Merissa is an ex. So, it looks like the blurred woman is none other than Merissa Pence—and it was even confirmed by Reality Steve:
Before you all ask, here's my answer: I have no idea why they blur Merissa's face during her talk with Peter. But her name is Merissa Pence, her IG is merissapence, and you may see me appear on her IG story tonight.
And yes, if you're wondering, this is the same Merissa who recently shared that Victoria threatened her the first time they met! She said, "We became friends when I moved back from Los Angeles about three years ago. Our first encounter was that she told me she was going to slash my tires because I was hanging out with one of her ex-boyfriends." She also added that Victoria "just thinks that the world revolves around her and she's the hottest thing that's ever hit this planet."
And FYI, it seems like Merissa has no regrets about spilling the Victoria tea, cause this was her Instagram story tonight:
Source: Read Full Article