'The Last Kingdom': Fans React to an Official Look at Haesten: 'I Like This Look on Haesten'
Fans of The Last Kingdom probably know by now, but season 5 will be the final season of the series. It's still a hard pill to swallow for some fans. However, there's still one season to go before it's all really over.
The official social media accounts for the series have been sharing official looks at some of the characters ahead of the new season. Even Haesten (Jeppe Beck Laursen) has been shared, and fans recently reacted to his official look.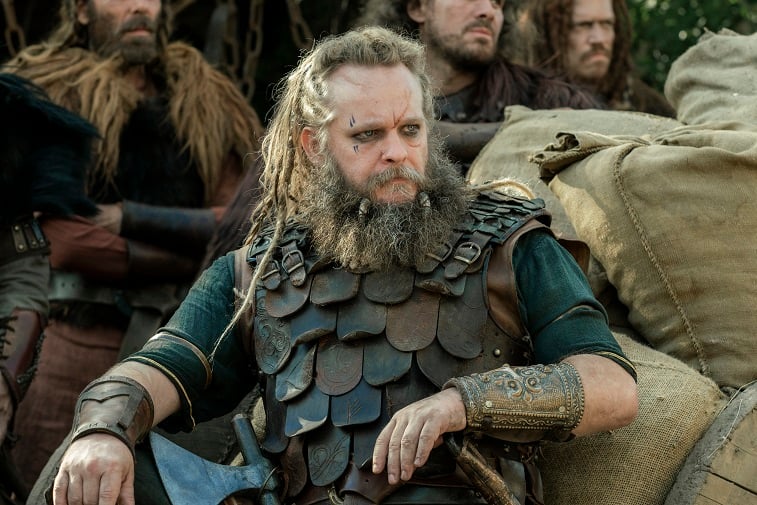 Haesten in 'The Last Kingdom'
Haesten is a Dane, and he plays both sides when it suits him. He causes some trouble over the years. In season 4, he abducts Lady Aelswith (Eliza Butterworth) along with King Edward's (Timothy Innes) son, Aethelstan, and Uhtred's (Alexander Dreymon) daughter, Stiorra (Ruby Hartley). Haesten even tries to have Uhtred and his men killed, but that of course doesn't play out how he expected.
See an official look at Haesten in season 5 of 'The Last Kingdom'
https://www.instagram.com/p/CSuL7OijV0g/
On August 18, 2021, the official social media accounts for the series shared a look at Haesten in season 5. The image has the name of the series in the upper left corner. Then in the middle is a good look at Haesten. He still has his tattoo near his eye, but his hair is now different and shaved at the sides. He has some hair in the middle, which is up and out of his face. He still has a beard, and he looks off while he wears furs and dark-colored clothing.
Below is a quote from Haesten. "'I spy on everyone…' – Haesten."
The post is captioned on Instagram: "Who else is watching? #thelastkingdom #tlk5." Over 43,000 people liked the post, and over 600 commented on it.
Fans react
Fans of course have a lot of reactions about the post. Some mentioned season 5, while others commented with different thoughts, including about Haesten's look.
One fan likes the look. "I like this look on Haesten," they said.
While other fans mentioned his hair, which is quite different from previous seasons. He usually sports a full head of hair, but now it's shaved at the sides.
"He is looking sharp with his new haircut 🔥," a fan said.
One fan prefers Haesten's hair now. "I think I prefer his hair like this!!" they said.
"His hair leveled up 🔥," said another fan.
A fan gives "kudos" to the wardrobe department. "Omg everyone looks SO GOOD," they said. "Kudos to wardrobe!"
Another fan says the actor who plays Haesten "is so perfect" for the role, and they can't be the only ones who feel that way.
"My absolute fav character," they said. "Jeppe Beck Laursen is so perfect for this role 😎."
Others commented that he looks different now. "Haesten looks different," a fan said.
"Wow, my boy looking way different," said another.
Another fan adds, "Wow, Haesten has glowed up!"
We'll have to see what else is shared before the new season of The Last Kingdom finally premieres.
Source: Read Full Article