'Outlander': Sam Heughan and the Rest of the Cast's Adorable Reactions to Caitriona Balfe's Surprise Baby News
Outlander star Sam Heughan and his co-stars were keeping a big secret while filming season 6. They knew that Caitriona Balfe — who plays the co-lead character Claire Fraser — was expecting her first child. But fans didn't know until Balfe shared the news on Instagram.
Now, Balfe's co-stars are sharing their messages of support and congratulations after her surprise baby news.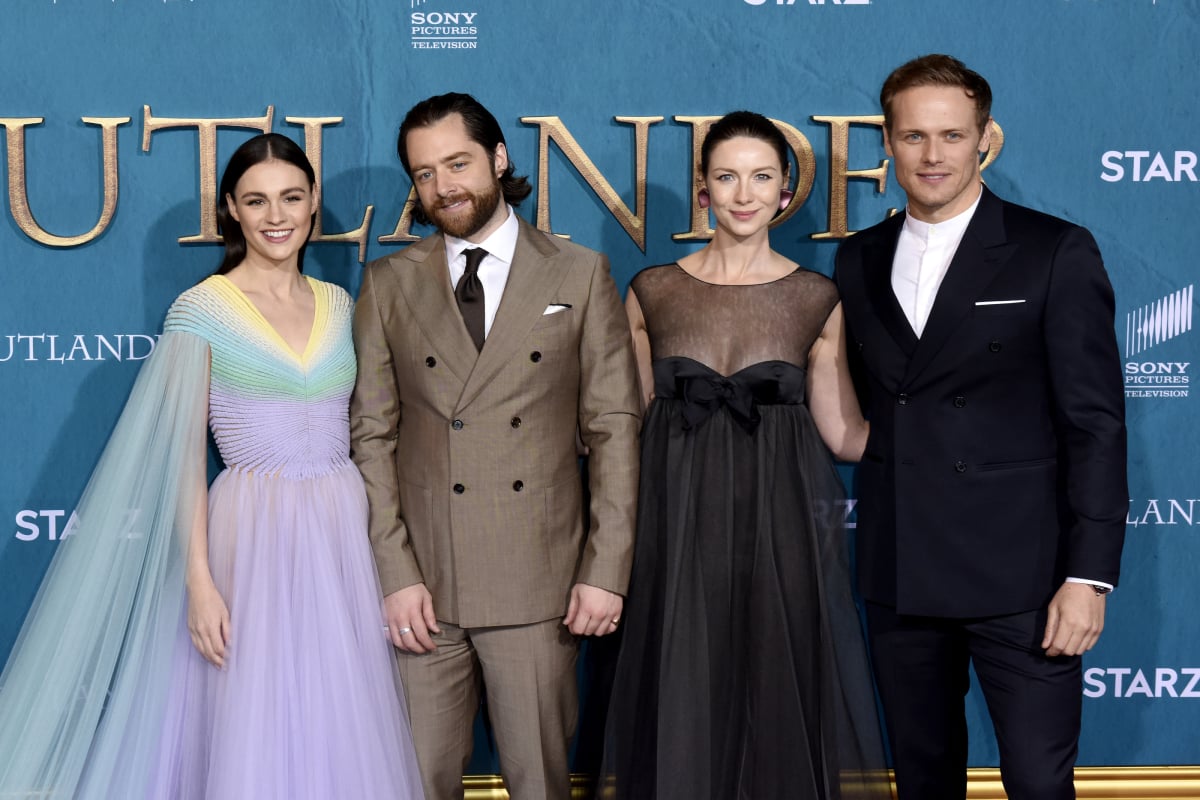 The 'Outlander' star explains why she's 'been off socials for a while'
Balfe shocked fans when she announced via Instagram on August 18 that she and her husband — music producer Anthony "Tony" McGill — had welcomed a baby boy. The 41-year-old shared the news by writing a lengthy statement and posting a black-and-white photo of her son's tiny hand holding on to her finger.
https://www.instagram.com/p/CStcEDsMD8F/
The Outlander star began her message by explaining to her 1.7 million followers that this is why she's "been off socials for a while."
"I was taking some time to enjoy cooking up this little human," Balfe wrote. "We are so grateful for this little soul ….that he chose us as his parents."
Caitriona Balfe didn't share many details
The four-time Golden Globe nominee's baby announcement didn't give fans a lot of details. Balfe didn't reveal her son's name, or share his birthday, weight, or length. The actor didn't share any stories from her pregnancy or birthing experience, either.
She did, however, admit that she is already "in awe" of her son, and he "seems so small and fragile." Balfe confessed that she can't help but "stare and wonder at all the possibilities of who he will become, where he will go, and what he'll do on the big adventure of his life."
'Outlander' star Sam Heughan posts two messages on Caitriona Balfe's baby announcement
Balfe's baby announcement quickly got fans' attention, as the comments immediately started to pour in. Of course, her Outlander co-stars were quick to offer messages of congratulations and support. Which included two messages from Sam Heughan, who plays Balfe's on-screen husband Jamie Fraser.
Heughan's first comment was simply a string of emojis — "🙌🙌🙌🙌🙌😍." In his second comment the Scotsman wrote, "Congrats you two (3!!). Wonderful sentiment.x."
The emojis kept coming
Three of Balfe's co-stars needed emojis only for their comments. Sophie Skelton (Brianna Fraser) shared hearts and baby bottle emojis, "🤍🤍🤍🤍🤍🤍🤍🤍🤍🤍🤍🤍🤍🤍🤍🤍🤍🍼🍼🍼🍼🍼🍼🍼🍼🍼🍼."
Duncan LaCroix (Murtaugh) also got in on the emoji action by posting. "😍🤗xxxxxxxx." Both César Domboy (Fergus Fraser) and Steven Cree (Ian Murray) posted heart emojis. Lauren Lyle (Marsali Fraser) posted the word "Hero" along with a red heart emoji.
The official Outlander Instagram page wrote, "Congratulations to you and your family on this wonderful news. ❤️ We're so thrilled for you."
'Outlander' star Graham McTavish celebrates Caitriona Balfe's 'splendid wee man'
The best of the co-star comments came from Graham McTavish. He played Dougal MacKenzie on the Starz time-traveling drama, and also co-starred with Heughan in Men in Kilts.
"Congratulations Cait. Wonderful stuff! I know you may be tempted to name him Dougal but you must resist!!!! All the best to you, Tony, and your splendid wee man! ❤️," McTavish wrote.
The new mom is extremely grateful
In her post, Balfe revealed that since giving birth to her son she has constantly thought about how grateful she is to live in a place and time that allowed her son to be "born into peace and safety." But she also knows that others aren't so lucky.
"At the same time I see so many in the world right now that aren't afforded that same privilege and opportunity … who are born into famine or war and how unjust it is that the same safety isn't there for all children," Balfe wrote.
The actor asked her followers to join her in supporting a few charities that need help. Donations will help organizations like World Child Cancer, Choose Love, and UNICEF give "the gift of peace and safety and opportunity to a few more."
Season 6 of Outlander will premiere in February 2022 on Starz.
Source: Read Full Article