Meghan Markle Recalls Auditioning Days During 'Ellen' Appearance, Her First Talk Show Since Leaving Royal Family (Video)
The Duchess of Sussex's full interview with Ellen DeGeneres will air Thursday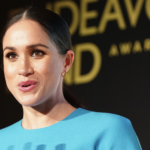 "You said the last talk show you did was like, I don't know, another decade ago," DeGeneres says to Markle, who married Prince Harry in 2018, to which Markle replies, "Yes." "But you used to come to this lot to audition all the time?"
"Oh my gosh, completely," Markle tells DeGeneres. "I would park at Gate 3 and then I would scoot on over. And what was so nice is the security guards here would always say, 'Break a leg! We hope you get it!' So the drive in today was very different," she said, with a laugh.
Yeah, we imagine coming to the Warner Bros. Studios lot as the wife of Prince Harry and mother to Queen Elizabeth II's great grandchildren, Archie and Lilibet, is definitely not the same one you get when you roll up in an "very, very old" Ford Explorer Sport for your umpteenth audition of the month.
"And at a certain point, the key stopped working on the driver side, so you couldn't get yourself in the door," Markle told Ellen. "So after auditions, I would park at the back of the parking lot and I would open the trunk and climb in and then pull it shut behind me and crawl over all my seats to get out. That's how I would come to and fro."
Did anyone ever see the former royal doing this?
"No, no, no I would play it off. I would be like, 'Oh, I'm just looking for my resume and my highlighters for my script. Oh, maybe it's back there!' And then just crawl all the way."
Source: Read Full Article