Joseline Hernandez Sends Twitter Into a Frenzy by Going Fully Naked on Her Show
If the 'Puerto Rican Princess' hopes the nude scene on her show will further excite fans, it certainly works as one fan writes on Twitter, 'I really be excited for Sunday's so I can watch Joseline's Cabaret.'
AceShowbiz –Joseline Hernandez broke the internet with a new episode of her show, "Joseline's Cabaret". In the said episode, the TV star drove fans crazy when she went on fully naked while skinny-dipping in the water.
Joseline, who is known for her bold personality, let everyone see the top part of her body as she didn't bother to blur anything out. As soon as the scene appeared, viewers' reactions erupted on Twitter.
"….this how they they doing it this week on Joseline's show? … ooh iight," one person wrote on Twitter alongside an NFSW picture of the racy scene. "Joseline's Cabaret is highkey interesting hold awn…..," another person said, while one user believed that "Joseline is a different type of crazy."
Another viewer said, "Joseline's Cabaret really is the best show on Zeus I'm sorry I love the bad girls but Baddies ATL is just….not giving what it was supposed to have gave." If Joseline hoped the nude scene would further excite fans, it certainly worked as one fan said, "I really be excited for Sunday's so I can watch Joseline's Cabaret."
Catching wind of the reactions, the self-proclaimed The Puerto Rican Princess wrote on her page, "Y'all enjoy #JoselineCabaretAtlanta last night!!! We were trending again all night last night. Thank y'all and I love y'all."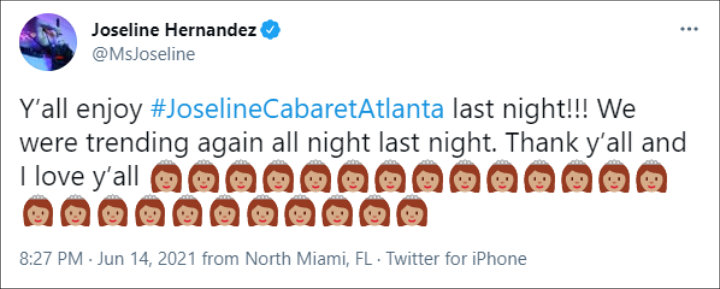 Joseline Hernandez thanked fans for making her show trending.
That aside, Joseline recently had an online back-and-forth with Wendy Williams as she accused the TV host of being "very rude" and disrespectful. During her appearance on "The Wendy Williams Show" back in April, Joseline called out Wendy and demanded from her, saying, "I hope you're going to give me my flowers today. I hope you're going to honor how much work I've put out there…I'm an accomplished woman and I just feel like every time I come to your show, you don't give me those flowers now."
"You're 35 years my senior. I should get those flowers now," she went on saying, while Wendy looked baffled by the sudden rant. "I should feel wanted by people like you. Not just me, all the other young girls," Joseline continued.
Firing back at Joseline, Wendy said, "You wanted to feel wanted by me? I always say you're very entertaining. You feel undervalued? Well so do I, okay? Because you're a part of pop culture, this is what I do. But if you possibly think that I leave here every day and don't feel undervalued for something that I do, you know, as a woman, we're not gonna even talk about race. Just as a woman, I still don't make that dollar for dollar men make."
Source: Read Full Article