'Cobra Kai' Season 4: How Peyton List Broke Mary Mouser's Thumb in 1 Fight Scene
Cobra Kai Season 4 had a fight scene in just about every episode. The cast now has several seasons of Karate training under their belts, even if they didn't start training the very first season. Fight scenes are safe and choreographed, but accidents do happen. Mary Mouser, who plays Samantha LaRusso, recently shared the story of how Peyton List, who plays Tory, accidentally broke her thumb.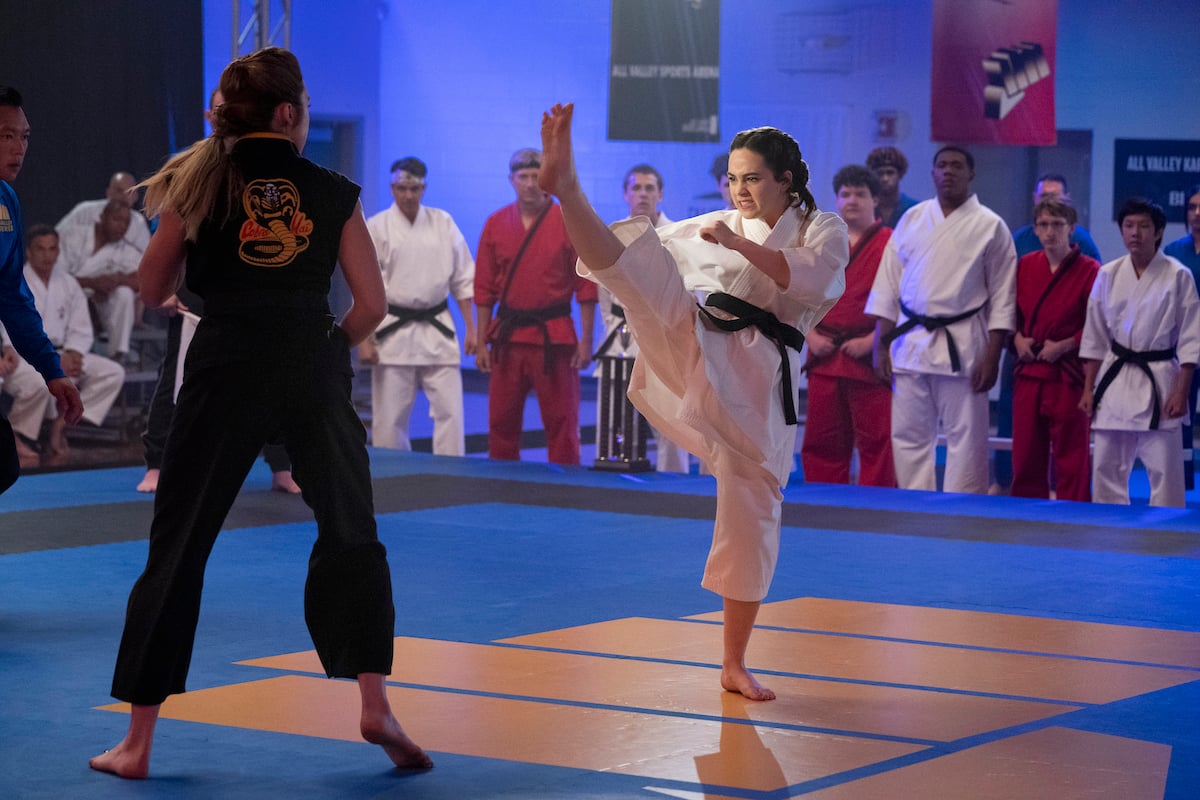 Mouser, List, Tanner Buchanan and Xolo Maridueña participated in a Vanity Fair video about the Cobra Kai prom afterparty fight scene. During the video, Mouser described her accident with List. Cobra Kai Season 4 is now streaming on Netflix.
Mary Mouser fights Peyton List poolside in 'Cobra Kai' Season 4
Stingray (Paul Walter Hauser) hosts the prom after party. The teenagers gather in the backyard by the swimming pool. Things remain tense between Tory and Samantha as they await the All-Valley Karate Tournament. Samantha was at prom with Miguel (Maridueña) and Tory was there with Robby (Buchanan), and both dates eventually join in the melee.
"The first take at the beginning of the night, we were supposed to do those first three kicks that Peyton and I do and then just duck out of frame as if we were doing the takedown but not actually do the takedown," Mouser said. "I went down and I stupidly put my hands out like this to catch my fall, so I had my hands spread."
Peyton List didn't mean to break Mary Mouser's thumb
Tory and Samantha have many confrontations in Cobra Kai Season 4. This fight, however, occurs while both Samantha and Tory are still wearing their prom dresses. In the video, Mouser describes additional difficulties the wardrobe posed for the fight choreography. So, she was also sympathetic when List took a tumble while Mouser's hands were outstretched.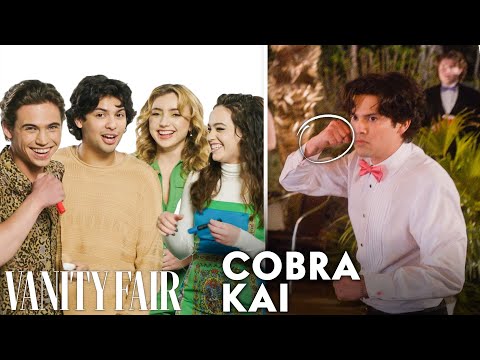 "Peyton accidentally fell because she was in those heels, fell on my hand and my thumb went pop," Mouser said. "I immediately was like, 'I broke my thumb. That's it, I broke my thumb' and I was like, 'I'm not going to say a word about it. I'm just going to continue doing what I'm doing.'"
The 'Cobra Kai' stuntmen took care of Mary Mouser's thumb
Mouser was a trooper and was going to tough it out to finish filming the fight scene. However, one of the stuntmen recognized the popping sound and insisted on giving her first aid. They finished the scene and Mouser got relief for her thumb.
"Immediately, Jesse, one of our stunt guys, runs over to me," Mouser said. "And he was like, 'Look, I was a fireman for years. I've heard that sound and that is not good.' And I was like, 'All right then, what are we going to do?' He was like, 'Let me check if it's dislocated.' We ended up icing it, it was fine."
Source: Read Full Article