Celebs Who Went Viral For The Weirdest Reasons
Since the dawn of the tabloid press, celebrities have made headlines for their commendable work or their fascinating personal lives. Of course, the gossip rags also scrutinize the stars for their bad behavior and other missteps. But in the age of social media, the darlings of the entertainment biz must reckon with another kind of fame: going viral.
No strangers to getting attention on the internet, A-Listers regularly receive millions of likes on Instagram and trend on Twitter and other social platforms. Most of the time, that's a good thing. After all, who could argue with free publicity? But when a celeb goes viral for a strange reason, the results are often unpredictable, leading to sometimes humiliating memes (hi, Chrissy Teigen's cry face!), Twitter roasts, and even getting cancelled. Stars, they're just like us — weird and embarrassing!
While some celebs end up embracing their odd viral moments, others found themselves on the defensive when their antics strayed from bizarre to offensive. Keep reading as we break down some of the strangest reasons celebrities went viral.
Was Kanye West really caught eating his own earwax at a church service?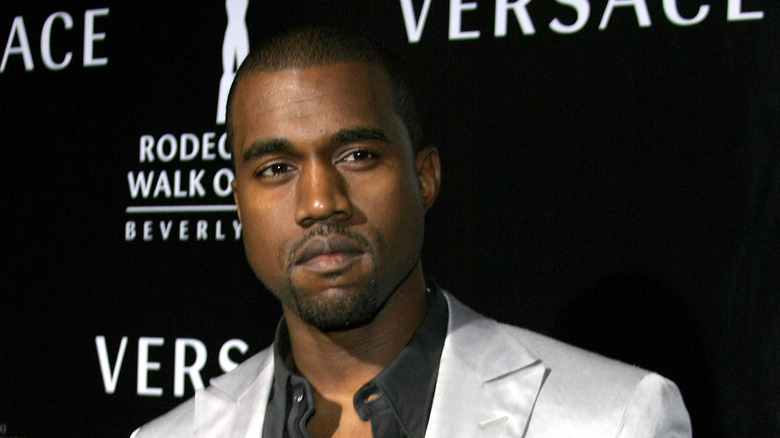 From famously interrupting Taylor Swift's acceptance speech at the 2009 MTV Video Music Awards to his wild, often unhinged tweets, Kanye West is known for stirring up controversy. But perhaps his strangest moment in the spotlight took place in 2019, when a video of the rapper possibly eating his earwax went viral on Twitter. (Try not to gag.) Shared by Twitter user @j0rgecastr0, the video shows West and his now estranged wife, Kim Kardashian, at one of West's Sunday Service gospel concerts in Los Angeles. The tweet was then shared by many outlets, including Insider, Rolling Stone, Esquire, and many more.
In the video, tweeted with the caption, "So I didn't even notice but I got a video of @kanyewest eating his earwax," West touches his ear, then puts his fingers in his mouth, then lets Kardashian kiss him on the cheek. At least she didn't kiss him on the mouth? Some fans leapt to West's defense, suggesting that he was simply scratching his ear and taking a hair off his tongue or throwing a piece of gum on the ground, but with over 124,000 likes on the video, it seems like the consensus is that West at least did something… weird, and the internet was game for a debate over it. 
Does Ariana Grande actually hate America — and food safety?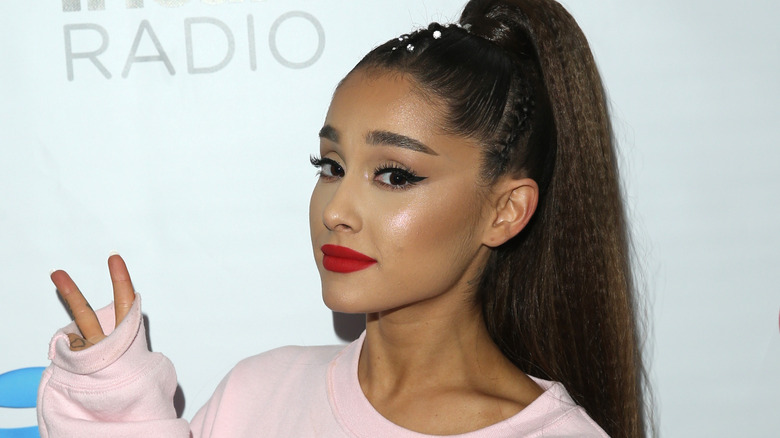 Ariana Grande may have an album titled "Sweetener," but she seems to have a problem with certain American sweets. In July 2015, the singer was caught on camera allegedly licking donuts in a bakery display case, with no apparent intention to buy them. An employee then brought a fresh tray of donuts to the counter, to which Grande exclaimed, "What the f**k is that? I hate Americans. I hate America." Outrage over the incident unfurled across the internet, spawning headlines including one from Yahoo! Finance declaring the singer was "embroiled in a donut-licking scandal that's spiraling out of control." Grande quickly apologized until she had no tears left to cry.
"I am EXTREMELY proud to be an American … What I said in a private moment with my friend, who was buying the donuts, was taken out of context and I am sorry for not using more discretion with my choice of words," Grande expressed in her lengthy apology statement (via Billboard). She then claimed that her "I hate America" remark was related to her anti-obesity activism, and that "the fact that the United States has the highest child obesity rate in the world frustrates [her]."
While Grande's excuse seemed like a bit of a stretch (and didn't address the alleged donut lick), her fans were quick to jump to her defense, with #WeForgiveYouAriana quickly trending on social media. Thank u, next… weird viral moment.
Let's give it up for Nicole Kidman's weird clapping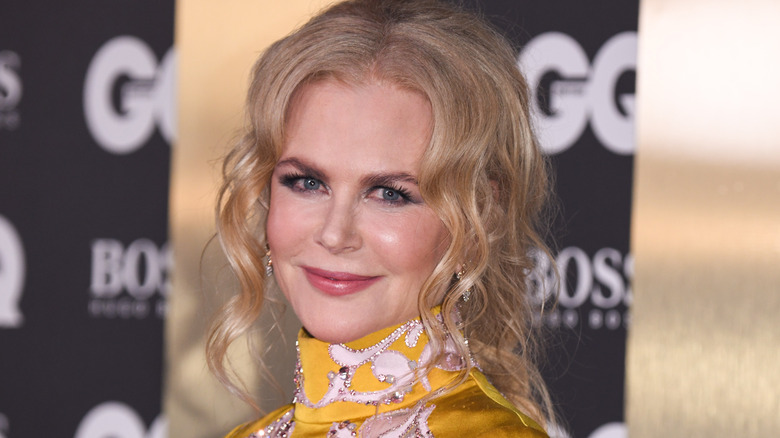 All the applause at awards shows must get tiring, but it rarely catches the audience's eye the way Nicole Kidman's quirky clapping did at the Oscars in 2017. As a nominee for best supporting actress for her role in "Lion," Kidman was seated front and center, a perfect angle for cameras to capture her fingers in a peculiar bend, stretching oddly outward from her hands as she gently applauded with just her palms.  
The moment was quickly turned into a GIF, and took off across the web from there. While many outlets that covered Kidman's viral applause went with the obvious seal comparison, Vulture additionally described it as "weird" and Insider went with "so bizarre." Explaining the moment on "The Ellen DeGeneres Show," Kidman blamed "a weird lens" for the appearance of her hands, but as it turns out, the star also had a very valid reason for the awkward ovation. 
Recalling the moment again on Kiss FM's "Kyle & Jackie O" show, Kidman confirmed Kyle's guess that the curious clapping was to protect the expensive, borrowed jewelry she was wearing. "I don't want to not be clapping, which would be worse, right?" Kidman said, adding, "So therefore, I'm clapping, but it was really difficult because I had this huge ring on which was not my own but was absolutely gorgeous, and I was terrified of damaging it!" Hey, if we had access to designer jewelry, we'd probably do the same.
Avril Lavigne died and was replaced by a clone named Melissa?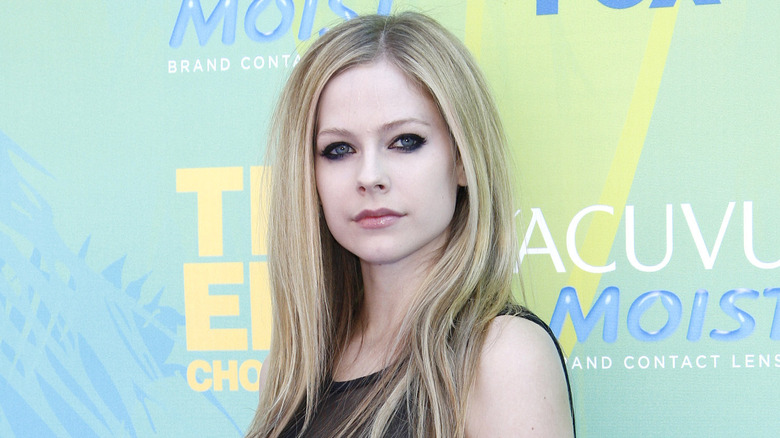 Hey, hey! You, you! Did you know that Avril Lavigne might actually be a body double named Melissa Vandella? In 2015, BuzzFeed reporter Ryan Broderick tweeted about a Brazilian blog called "Avril Esta Morta," which translates to "Avril is dead." The rumor was that the Canadian singer-songwriter died by suicide in 2003 following her grandfather's death and was replaced by Vandella, who had originally been recruited to deal with paparazzi for Lavigne. The theory pointed out alleged changes in Lavigne's appearance, handwriting, and fashion as "evidence" that Avril Lavigne is not, in fact, Avril Lavigne. From diagrams of her face to a promotional photo of Lavigne with "Melissa" written on her hand in Sharpie, believers of this conspiracy had seemingly built an in-depth case. 
It was quickly picked up by Paper Mag, Vice, and Gawker, among other sites. As translated in a BuzzFeed piece, the blog itself was "created to show how conspiracy theories can look true" (the O.G. fake news!). According to Broderick (who claimed responsibility for the theory going viral by tweeting about it), it's actually "part of a network of blogs" that includes hoaxes about Miley Cyrus, Selena Gomez, and Paul McCartney, all aimed at showcasing how easy it is to make false information seem accurate.
Lavigne — who's very much alive — laughed off this bizarre rumor to E! in 2018, saying, "Yeah, some people think that I'm not the real me, which is so weird! Like, why would they even think that?" In Lavigne's own words, it feels appropriate to ask, "What the Hell?"
Twitter decided that John Legend looks like Arthur the Aardvark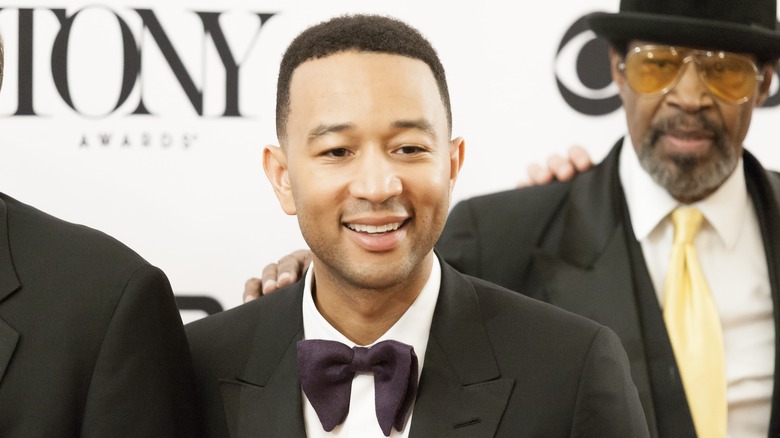 Singer-songwriter John Legend may be the father of two young kids, but that doesn't mean he's in the know about all children's cartoons. On February 19, 2017, Twitter user @sowahblanket tweeted that "John Legend look like Arthur lowkey," which has received nearly 200,000 likes to date. While we don't necessarily disagree, the "All of Me" crooner wasn't aware of the popular character or the show, tweeting in response, "I hadn't even heard of this Arthur character til now. Was he around when I was a kid?" 
Media outlets like Today and HuffPost picked up on the story, with the latter jokingly calling it "a scandal" that Legend didn't know of the cartooned aardvark. (The first episode of "Arthur" aired in October 1996, when Legend was 17 years old, so we guess he can be forgiven.) Meanwhile, always the troll, Legend's wife and the reigning Queen of Twitter, Chrissy Teigen, posted an Instagram picture of daughter Luna holding an Arthur stuffed animal that had perhaps belonged to Teigen as a child. Fittingly, it was hilariously captioned with, "Luna and daddy." Teigen went on to share a meme of a cartooned Legend as the "Arthur" logo, to which Legend responded (via Elle), "Enough is enough." Although, as the outlet pointed out, the internet loved it. 
Legend has since accepted his look-alike with grace, going so far as to recreate the popular "angry Arthur" meme in a 2018 Google Duo ad (which he starred in alongside Teigen).
Meet Demi Lovato's imaginary twin, Poot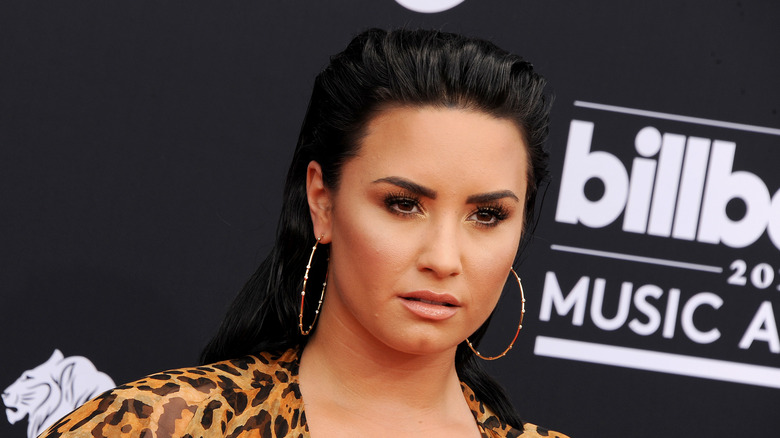 Singer Demi Lovato is no stranger to making headlines, and has received attention for openly discussing their struggles with mental health and substance addiction. Not to mention, in 2021, their beef with The Bigg Chill frozen yogurt shop made headlines in the Los Angeles Times, Vanity Fair, Us Weekly, and more, as they controversially called them "#dietculturevultures" for selling sugar-free cookies and other diet foods. But none of the "Sorry Not Sorry" singer's memorable moments are as straight-up ridiculous as the 2015 meme of their supposed twin, Poot.
As reported by The Guardian, after a less-than-flattering picture of Lovato at a red carpet event was published online, Tumber user Versaceslut shared it along with a crude sketch, receiving 75,000 notes before it was deleted a couple weeks later. Soon after, another Tumblr user, cstcrpt, reshared what the outlet called a "washed-out, overly lit" image, claiming that it was a pic of Lovato's long-lost twin. The user alleged that Poot had been "locked in a basement her whole life," and that the picture was "taken the first time she went outside." The meme quickly spread around the internet, causing #FreePoot to trend on Twitter and even inspiring a Wattpad fanfiction story called "The Secret Life of Poot Lovato," which has been read 709,000 times to date.
Lovato was not thrilled by the bizarre meme at first, tweeting (then subsequently deleting) their disapproval. By April 2017, they appeared to have come around, tweeting out a GIF of Poot.
If you or anyone you know is struggling with addiction issues, help is available. Visit the Substance Abuse and Mental Health Services Administration website or contact SAMHSA's National Helpline at 1-800-662-HELP (4357).
That time Shawn Mendes and Camila Cabello proved they know how to kiss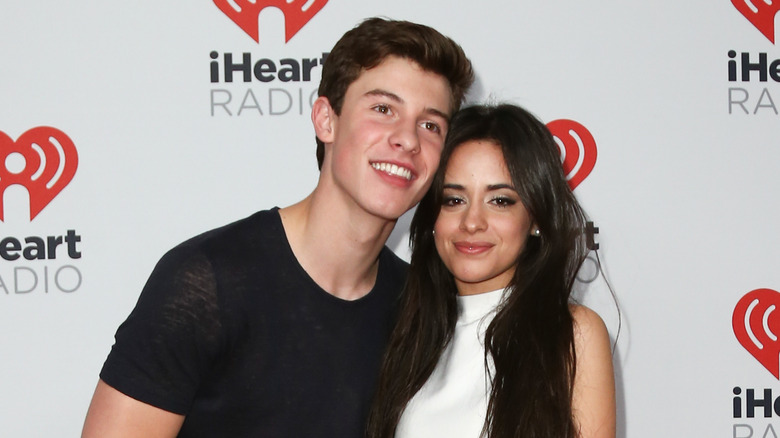 PDA with an added spotlight has got to be pretty weird, but celebrity couple and "Señorita" singers Shawn Mendes and Camila Cabello made it even weirder when they released an Instagram video of themselves proving that they know how to kiss in September 2019. After their first live (and steamy) performance of "Señorita" at the 2019 MTV Video Music Awards, it appeared that the duo were going to kiss, although they pulled away at the last minute. This awkward moment went viral, garnering the attention of fans who found this interaction strange (apparently, not every touch is "ooh la-la-la"). 
The pair then one-upped themselves in the above-mentioned Instagram video, which has received nearly 40 million views to date. "We saw on Twitter and stuff you guys saying stuff about the way we were kissing, and how it looks, like, weird and that we kiss like fish," Mendes says in the clip, to which Cabello adds, "Yeah, it really hurt our feelings." While it looks like the two are headed in for a romantic kiss, they actually troll their fans with some comedic kissing, including tongue-sucking and all. 
According to People, some of their fellow singers found the video hilarious, with One Direction's Niall Horan, for example, offering a string of laughing and crying emojis. Though they were joking, Mendes and Cabello didn't exactly prove their Twitter detractors wrong about their kissing skills… Maybe they should ask Ariana Grande and that donut for some pointers?
John Travolta mispronounced Idina Menzel's name at the Oscars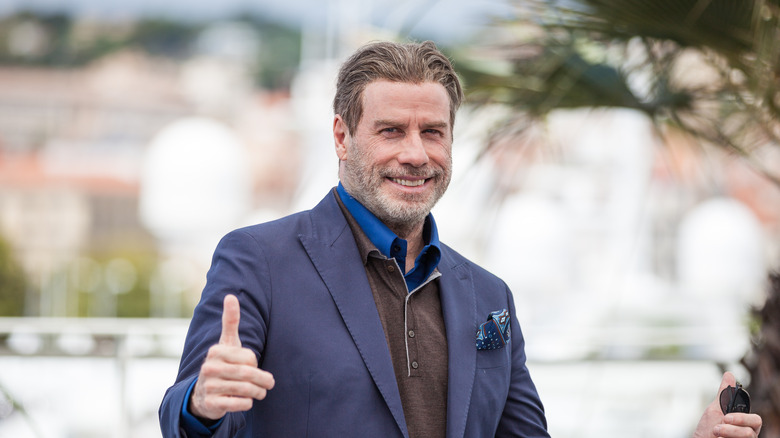 He may have been born to hand jive, but "Grease" star John Travolta was definitely not born to present awards on live television. When introducing "Frozen" actor Idina Menzel's "Let It Go" performance at the 2014 Oscars, he completely butchered the singer's name, welcoming her as "the wickedly talented, one and only Adele Dazeem." This slip-up quickly turned into a viral meme, with BuzzFeed publishing, "If John Travolta Had To Pronounce Everyone's Name At The Oscars," which imagined how he'd mispronounce other celebrities' monikers. Slate even created a "Travoltify Your Name" generator.
Speaking with Andy Cohen on "Watch What Happens Live," Menzel recalled being thrown at first, but that didn't stop her from launching right into song. "For eight seconds, I felt very sorry for myself," she admitted. "And then I said… Get my s**t together. This is your chance. Who cares, you know, and sing the d**n song." Good thing she did, as "Let It Go" went on to win the Academy Award for best original song. Travolta later explained his flub on "Jimmy Kimmel Live!" (via ABC News), stating that along with being "starstruck" by Goldie Hawn backstage, the teleprompter text had been switched to a phonetic spelling at the last minute, tripping him up.
Luckily, Menzel graciously let the slip-up go and got her revenge at the 2015 Oscars, announcing Travolta as her "very dear friend, Glom Gazingo." Okay, so maybe she didn't totally let it go. But she plays the Snow Queen, so she's allowed to be icy.
That time Russell Crowe tweeted about catching a UFO on video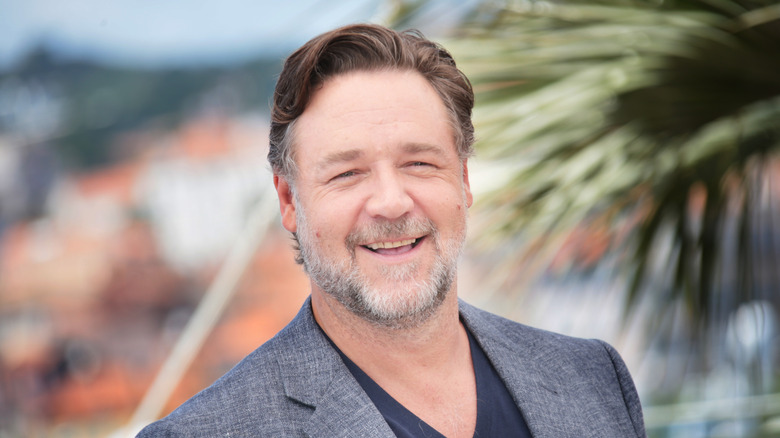 E.T., phone home — or, phone Russell Crowe. In 2013, the actor set out to film fruit bats in the botanical gardens near his office in Woolloomooloo, Australia, but discovered something much stranger. Crowe alleged on Twitter that he'd captured footage of a red glowing UFO, stating, "UFO? Time Lapse Photos Outside RC's Woolloomooloo Office (THESE ARE REAL!)." This seemingly clickbait-y tweet linked to a YouTube video of the supposed sighting, sending Crowe fans and alien believers alike into a frenzy. 
As of this writing, the clip has over 2 million views and seemed to convince some people, including viewers who commented, "Voice of reason. Thank you," and "Cool photos and video. Definitely caught some odd phenomena. 100% UFO." However, the bulk of the responses were skeptical, with remarks like, "I believe the phrase 'Smoke and Mirrors' applies well here," and "Mix more water with your drinks Russell." 
Crowe's alleged UFO sighting caught the attention of various outlets, including The Hollywood Reporter, The Guardian, and NBC News, the latter of which noted the actor's series of tweets defending what he thought he saw to disbelievers. However, the video was eventually debunked and revealed to be "timed-exposure" photos using a "telephoto lens" of "a piece of rigging" on a boat in nearby Woolloomooloo Bay. There's no telling whether Crowe was playing a trick or actually believed he had spotted an unidentified flying object, but he did play Superman's father in "Man of Steel," so perhaps he truly does believe in the extraterrestrial.
Ryan Lochte claimed he was robbed at gunpoint in a Rio de Janeiro gas station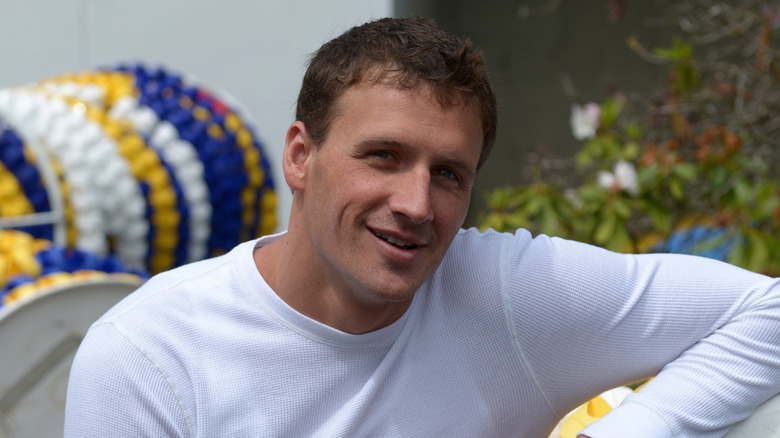 In 2016, sports fans around the world were alarmed to hear that Ryan Lochte and three other U.S. Olympic swimmers had been forced out of a taxi and held at gunpoint by armed robbers disguised as police while in Brazil for the 2016 Summer Olympic Games in Rio de Janeiro, per The New York Times. Lochte even publicly claimed as much on the "Today" show. After an investigation, however, Brazilian police told the Associated Press that Lochte and his teammates had been lying. 
In reality, the "armed robbers" were security guards at a gas station, where an intoxicated Lochte and his fellow swimmers had stopped and allegedly vandalized. Footage appeared to show them urinating on a side wall and then destroying property in the bathroom — including a mirror, a soap dispenser, and a "Please Do Not Enter" sign — before the gas station owner called the police. Lucky for the swimmers, they were eventually let off of any charges and some only paid a fine, but the internet ultimately held Lochte accountable. 
#LochteGate went viral, with reactions ranging from amusement to spoofs to criticism at the athlete's admittedly "immature" behavior and poor representation of America. Lochte later apologized in an interview with NBC's Matt Lauer, saying, "I let my team down." He also backtracked on some of the details he'd previously alleged. Lochte may have received a 10-month suspension from the U.S. Olympic Committee and USA Swimming, but he definitely deserves the gold medal for strange viral behavior.
Source: Read Full Article