Josh Kelly vows to hit 'new level' in acid test against David Avanesyan
Josh Kelly works out ahead of his European title bout
No fewer than 27 long months have passed since the initial date for Josh Kelly's acid test against David Avanesyan. In that time the self-styled 'Pretty Boy' from Sunderland believes he has grown into a man.
Kelly was considered something of a wonderkid when he went to the Olympics in Rio as a flashy, mercurial 21-year-old and it was no surprise when promoter Eddie Hearn made a robust play to sign him to professional terms almost immediately upon his return.
"It was all a bit mad back then," Kelly remembers. "At the start you're just a kid and you're thinking 'oh my god, who's coming to this? Who will be at that?' And whatever else.
"But as you get older you realise that nothing like that really matters. All that matters is what you do in the ring, no talking, no nothing – it only matters what you do inside that ring."
He barely put a foot wrong in his first 18 months as a pro and had surged to 8-0 before he was first linked with a Russian called David Avanesyan towards the end of 2018. Many had tipped him to come unstuck against the experienced welterweight who could count 'Sugar' Shane Mosley and Lamont Peterson among his previous opponents.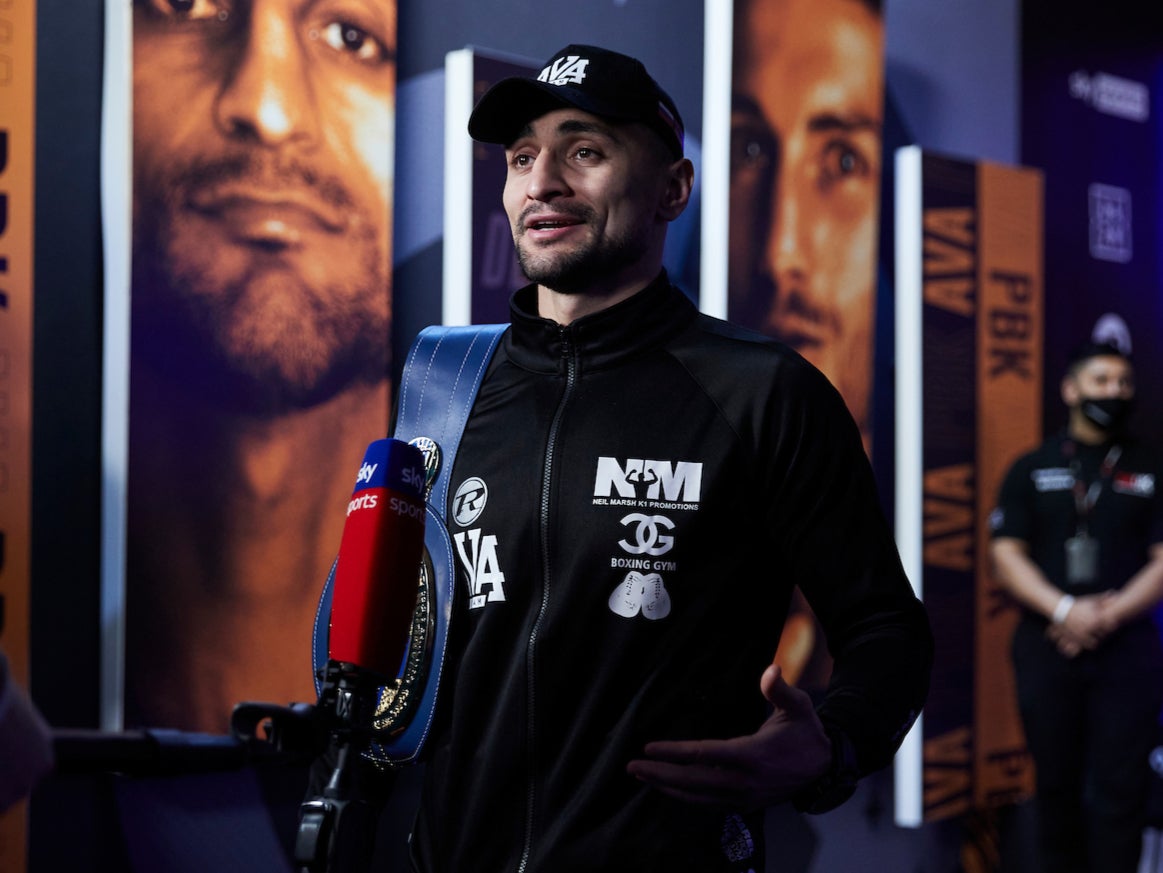 David Avanesyan will provide a thorough test of Kelly's credentials
But despite successfully weighing in for the clash, which was due to take place in Sheffield, Kelly fell ill overnight and was withdrawn from the fight just hours before it was supposed to start. Avanesyan's manager Neil Marsh accused Kelly and his trainer Adam Booth of 'bottling it'.
Since then, both Kelly and Avanesyan have continued to plot separate paths towards the summit of the welterweight division. Kelly boxed three times in 2019, including a draw against Ray Robinson at Madison Square Garden, while Avanesyan racked up three inside-distance victories, one of which clinched the European title which will be on the line this Saturday.
Independent Rugby Newsletter
Live Rugby union coverage direct to your inbox every week
Read our full mailing list consent terms here
The duo were once again scheduled to meet in March last year before Covid swept across the planet. Finally, the British Boxing Board of Control's decision to suspend all competition last month meant that their third arranged date on 30 January was also canned.
But on Saturday one of the longest-running sagas in British boxing will finally come to an end behind closed doors at a silent Wembley Arena.
Kelly says Avanesyan will be encountering a completely different beast to the one he was first set to face back in 2018.
"Mindset, maturity, nutrition – everything is different," Kelly adds. "I've gone up another level and found another gear for everything.
"Has the time elapsed between when the fight was first supposed to happen and now done me good? Yes, it has. Of course it has. Has it done him good? I'm not sure. Even so, I'm expecting the hardest fight of my life."
To prepare for that, Kelly has changed his entire training situation, leaving his wife and two young sons back home in Sunderland and setting up shop in a humble flat in Surrey, just round the corner from the gym in which he trains.
His first child, Joshua Jr, was just a month old when his dad was supposed to face Avanesyan the first time. Now, two years and a second son later, Kelly believes fatherhood has matured him.
"I moved into the flat in September time when everything got moving and everyone got back in the gym," Kelly says.
"I was travelling to the gym before that but I moved in from there. I've just been locked in since then and laser-focused so I can't say I've left any stone unturned.
"It was nice spending some time with my boys before then. It felt like I didn't have anything on my mind. But at the same time it was hard because I had got myself into the best shape of my life for the fight that got pulled in March.
"That was hard for me. It was like I had to grieve over it in a sense because I'd put all that work in but it went down the pan again.
"But I'm a lot more mature now. I'm a man now, I've got two kids, a family and I know what is a priority and what's not. As a kid, especially when you're from Sunderland, you burst onto the scene and everything's mad. You just think 'woah, what's this all about?'
"Now I've settled down, I'm married, I've got future goals, long-term goals so I just need to focus on that and keep myself as happy as I can."
Never mind happy, staying sane during a brutal training camp has been hard enough for Kelly.
"Mate, you've just got to keep yourself busy," he says. "I managed to invest in a PS5 somehow. I play on that. I take myself on walks and switch off. You basically find out a lot about yourself in these circumstances and that's what I've done. It has suited me down to the ground. I feel like I've grown up massively during this camp, 100 per cent. I was the youngest of that Team GB squad to turn over after the Olympics, I was 21 or 22 and I'm only 26 now.
"I've still got a lot of maturing to do but I feel like this time in camp, physically you can see I've matured and mentally I have too. Everything is coming into my prime few years now.
"I've learned that In this boxing game you can be loved one day and hated the next, or vice versa. You can't take anything to heart and just ride the wave and stay focused on your craft. That's what I've done and I can't wait to prove it."
Source: Read Full Article