The Rare Bachelor Stars That Have Turned Shot at Love into Insta-Fame
Arie Luyendyk Jr. never thought he'd become a social media influencer when became the unexpected star of The Bachelor at 36 years old.
Prior to the premiere of his season in January 2018, the race car driver and real estate agent who first appeared on the franchise during Emily Maynard's season in 2012, Arie told E! News he wasn't too interested in any influencer opportunities that could come out of his return to Bachelor Nation in the social media era.
"For me, I've never really wanted to be too involved with social media," Arie said. "I'm not going to be promoting any teeth whitening or Sugar Bear hair care products anytime soon. And no FitTea for me! I love racing, so that side of it, yes, I do promote that, it's part of my career…when it comes to the little things like getting a free TV and putting it on Instagram, it's just not me. It's not worth it to me."
Alas, a few months and a new public relationship later, Arie's feelings has clearly changed. All's fair in love and spon-con, especially when it comes to navigating the tricky waters of life after The Bachelor.
View this post on Instagram
She's distracting me from watching TV but I don't mind 🙂 Today is National #CutTheCordDay and @tcl_usa is giving away 103 55" 4-Series (4K) TCL Roku TVs! Visit their page or check out my story for the link. Hurry today is the last day!
A post shared by Arie Luyendyk (@ariejr) on
Arie's drastic shift in perspective inadvertently aligns with the franchise's own complicated feelings and ongoing begrudging acceptance of its stars often using their time on the show as a platform to launch their second career as a social media influencer.
And it's easy to see why when you take a quick look at the stats: The average rate for sponsored content is generally $1,000 per 100,000 followers, or one cent per follower, according to Later. If you have one million followers, you are looking at roughly $10,000 per post. If it's a partnership, the influencer receives a percentage of any of the purchases made through their link or special code.
Pair the franchise's steady ratings each season with its position as one of the top TV shows on social media and it's a head-start for those looking for a way into the influencer community…that is if you can actually hack it.
Just 20 Bachelor contestants have been able to make it to one million followers on Instagram, though many are knocking on the elite club's door.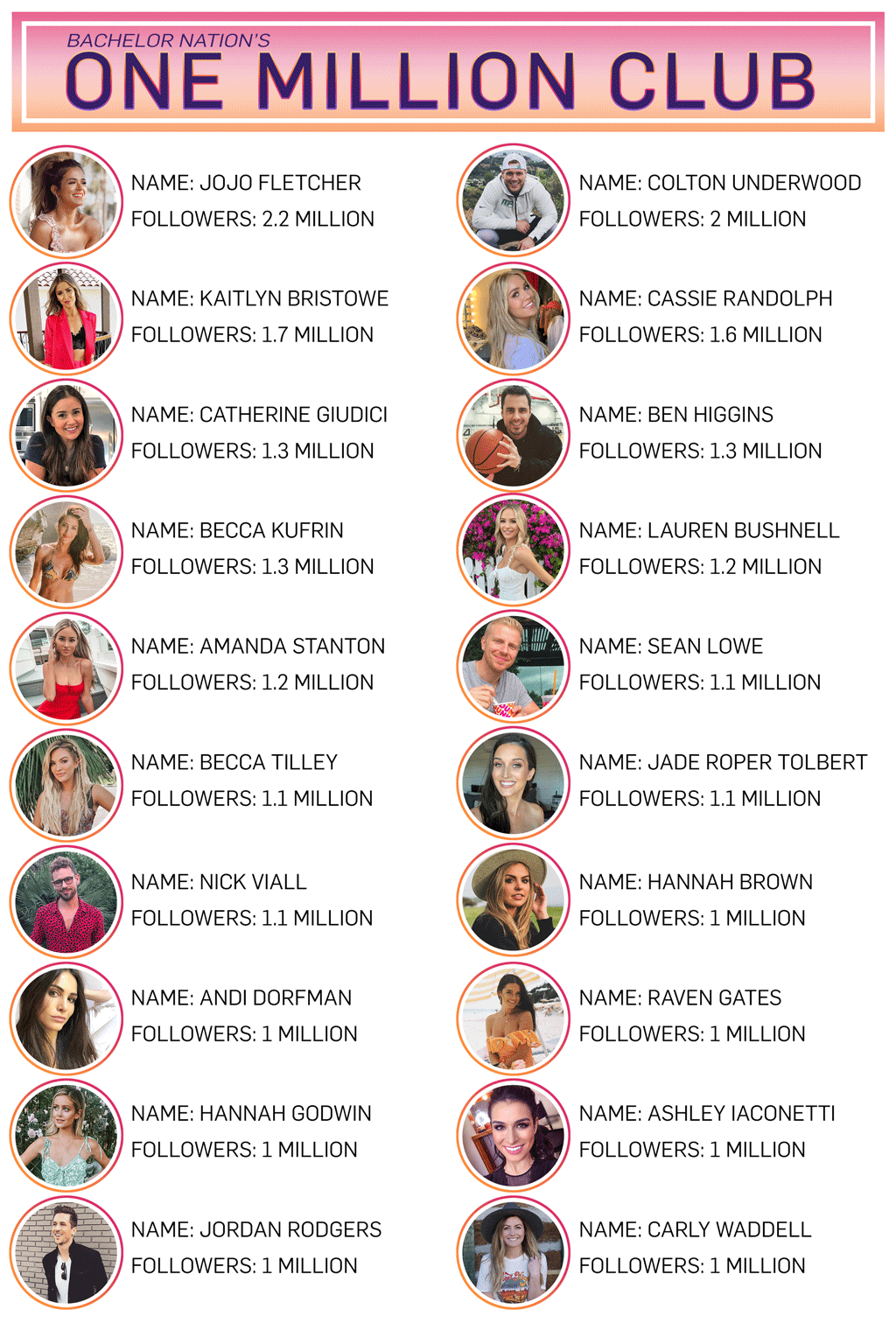 Instagram; Melissa Herwitt/E! Illustration
In 2017, fans snickered when producers listed Robby Hayes, JoJo Fletcher's "former Olympic swimmer" runner-up, as a "social media influencer" on Bachelor in Paradise, clearly taking a jab at the non-stop promoted posts and level of thirst on his feed.
But by Colton Underwood's most recent season, the typical job titles like nurse and teacher were replaced with content creator and content consultant without a hint of irony.
View this post on Instagram
Fluent in social media… ??‍♂️ ——————————————————– #BIP4 #BachelorinParadise #Paradise #BIP #Betches @betches
A post shared by Robby Hayes (@roberthunter89) on
When The Bachelor first premiered in 2002, Facebook was a mere thought in Mark Zuckerberg's brain. "Normal" people signed up for this reality TV experiment in the hopes of finding true love, quickly returning to their regularly programmed lives after their stay in the mansion, including the leads. (When is the last time anyone saw let alone heard a whisper from the original Bachelor, Alex Michel?)
But with the rise of Facebook and then Twitter, the contestant pool slowly started to shift. Tabloids started covering the show, turning them into C-list celebrities. Villains thrived and fan-favorites emerged. And opportunities to make a quick buck off of your time on the show started to present themselves.
"If you were on reality TV in let's say 2007-2008, you didn't really have social media. You had Facebook back then, but there weren't really many ways to monetize and there was Twitter, but Twitter was also not the easiest to monetize," Paul Desisto, a talent agent at Central Entertainment Group who represents a large group of Bachelor franchise alumni, said. "So if you were on reality TV the way you made money was through your TV contracts, releasing your own products, book deals, and personal appearances were very big. Most of the personal appearances…some of these clients would be out four or five days a week, literally Wednesday through Sunday, just doing appearances for maybe six months to a year after the show was over."
One of Desisto's first clients from the franchise was Juan Pablo Galavis, season 18's lead, widely considered the least popular Bachelor of all-time. Still, there was money to be made for the Venezuelan former soccer player after he handed out his final rose.
"There was a big demand for nightclub appearances back then, so with Juan he did a lot of personal appearances. He did Las Vegas, Atlantic City, we booked him a couple of dates."
After that short period of time, a contestant would usually return back to their normal life, occasionally popping up in a "Where Are They Now?" round-up several years and many contestant cycles later, with some remaining relevant by writing tell-all books, including leads Andi Dorfman, Trista Sutter, Bob Guiney, Emily Maynard, Sean Lowe, "Prince Lorenzo Borghese and Jen Schefft, as well as contestants like Melissa Rycroft and Courtney Robertson. And who can forget when Helene Eksterowicz and Gwen Gioia teamed up to write a book about bonding after falling for a "jerk," season two lead Aaron Buerge?
But then social media came along and changed the game, beginning around the time of Chris Soules' season airing in 2015, which introduced four of the franchise's current most followed contestants to viewers, including Kaitlyn Bristowe, Jade Roper Tolbert, Carly Waddell and Ashley Iaconetti. With the popular spinoff Bachelor in Paradise premiering that same year, contestants were given even more time to make an impression on viewers in a more relaxed and fun environment.
Before Instagram, reality TV stars weren't exactly in demand when it came time for brands to pick public personalities to represent or promote their products, with A-list talent considered much more palatable. "Reality and pop culture became extremely in demand only five years ago," Desisto explained. "When Instagram came along, that's when everyone wanted to work with them…overnight everyone wanted to work with them."
Since then, the franchise has slowly become a bonafide influencer factory, with contestants going on the show, establishing dedicated followings on social media that they can then leverage to monetize their content.
More so than other any reality TV program, contestants from The Bachelor have proven to have longevity in the space long after their time on the show has ended, enduring two months of isolation during filming in exchange for paid vacations and a curated feed of gifted products and promo code offerings. At least that's how it may appear, but behind the filters and pre-sets the hustle of being a full-time Bachelor alum-turned-influencer is anything but glamorous.
"It's all about long-term growth and sustainability than just coming off TV and just the short-term in order to make it in the space right now," Desisto, who works closely with 10-12 former contestants, said, highlighting Ashley Iaconetti's drive to use her time on the franchise's shows (The Bachelor, two seasons of Bachelor in Paradise and Winter Games) to fuel her longterm ambitions.
"A lot of people just in general they think that this is just given to you on a silver platter, but to make a career out of something in the entertainment space is very hard. You have to treat it as a full-time job and Ashley 1,000 percent does."
In the four years since she was first introduced as a Disney-princess-obsessed Kardashian wannabe, Ashley I. has slowly but surely formed her own little media empire, hosting several podcasts and her own YouTube show, working as an entertainment reporter and wrote a children's book. Finding love with Jared Haibon and sharing their love story (2.2 million views for their YouTube video detailing their unconventional road from BFFs to romance) and wedding planning process has just been profitable icing on the cake.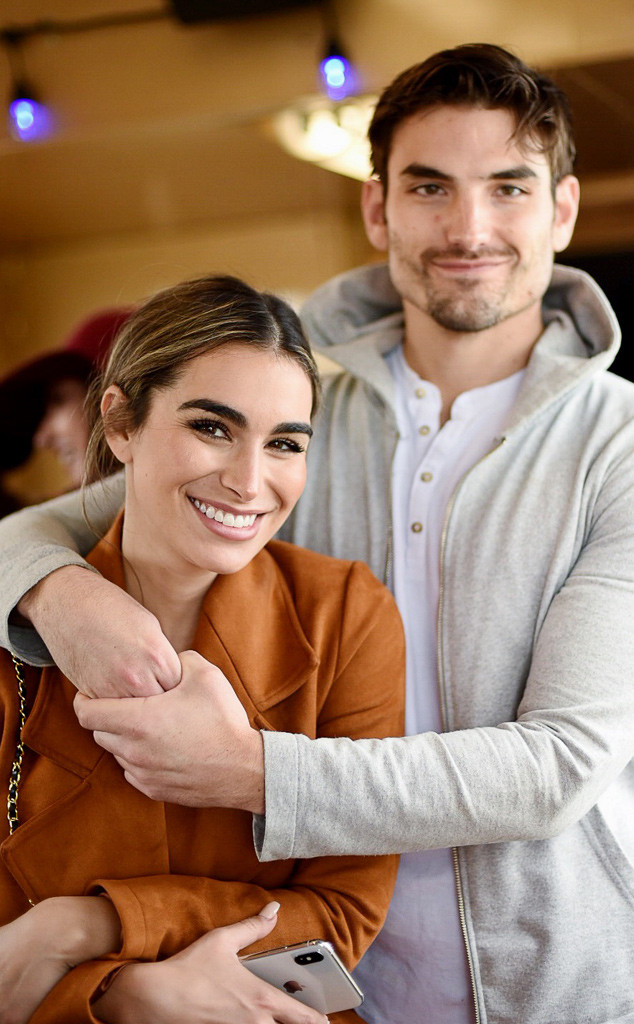 Amy Plumb for iHeartRadio
"Ashley is a master networker. She has a very natural personality where she gets along with everybody. You have to network, you have to meet the right people, you have to be liked and you have to bust your butt," Desisto said. "She did well on TV, but to be honest with you, most of her fame came after television. I think after all the Bachelor shows she was at 300,000 on Instagram, she has over 1 million now. Where did the other 700,00 come from? They know her from developing herself as a character and blowing up on other platforms, like her podcasts."
From an outsider looking in, it is easy to believe most of the contestants go on the show looking for an easy way to trade their mundane reality for Instagram fame, but that's a common misconception, both on behalf of the viewers and prospective contestants. And it's a short-term get-famous-quick strategy that's becoming more and more unlikely in the bloated market that has no Detox tea to serve as a quick fix.
"I do think that Instagram is getting very crowded. I think what's going to happen is the top tier is going to have more opportunity and the low to medium cast members…their opportunities are going to just almost disappear," Desisto said. "Because the way the Instagram algorithm is looking like its changing, it's favoring only a handful of people now. If someone is on The Bachelor…there's a lot of profiles that were able to get hundreds of thousands of followers, now it seems like it's favoring a handful of people vs. a wide range."
So if you look at the most successful alumni who've managed to maintain and grow their followings long after they left the show, they are focusing their efforts on other platforms and projects rather than relying on followers swiping up or typing in their codes at checkouts.
"If you have a wildly successful YouTube or a podcast, they're going to find you on your Instagram," Desisto said. "You can't just rely on being given fans or followers from television anymore."
In early March, Jade and Carly teamed up to launch Mommies Tell All, their podcast in which they discuss share personal anecdotes and experiences on topics such as pregnancy, motherhood and "today's pressing women's issues" with guests. And it was the platform on which Carly chose to make the announcement that she and Evan were expecting their second child.
"To really have longevity in this space you have to really work at it and have opportunities from different angles," Desisto explained. "If you have a sponsorship on your podcast, 99 percent of the time they're going to work with you on Instagram and on YouTube."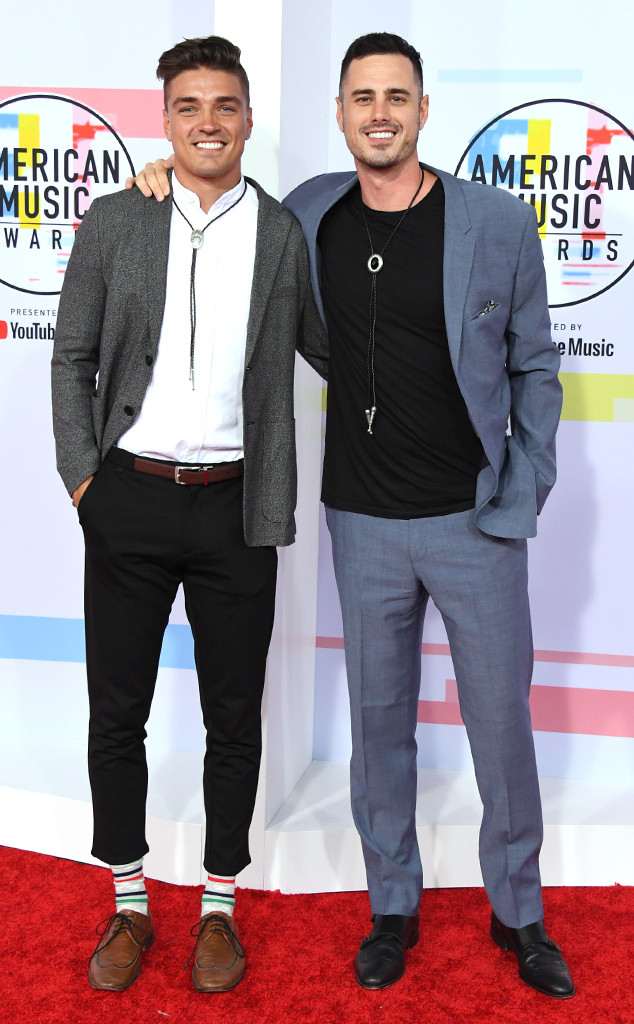 Jon Kopaloff/FilmMagic
Mommies Tell All is just the latest podcast hosted by Bachelor vets to join the rapidly growing space, with Ashley I. and Ben Higgins' The Ben And Ashley I Almost Famous Podcast and Kaitlyn Bristowe's Off the Vine really leading the charge.
Mouthing Off with Olivia Caridi finds the former "villain" exploring pop culture, often through the lens of her experience on the show. Becca Tilley's Scrubbing In won Choice Pop Podcast the at the 2019 People's Choice Awards. Nick Viall offers dating advice on The Viall Files, with Jared Haibon, Dean Unglert and Vanessa Grimaldi, Viall's ex fiancee, also offering the same services on Help, I Suck At Dating. Let's Talk About It is where Taylor Nolan, a mental health counselor, gets deep. Bekah Martinez is one-half of the Chatty Broads podcast. Even Chad Johnson has his own show, Bachelor Chad, that he hosts when he's not off filming yet another reality TV show. Jordan Kimball mixes motivational words with reality TV insight on NON-ambiguous.
One common denominator among all of those offerings? They constantly circle back to the franchise, with the hosts and guests often recapping the episodes and revealing behind-the-scenes tidbits from their time on the show. Podcasts are the new tell-alls, with a quicker turn-around rate and a more steady revenue stream, thanks to advertisements.
Source: Read Full Article