Hollywood Calls for Trump's Impeachment or Invocation of the 25th Amendment
Congresswoman Ilhan Omar, meanwhile, tweets she's "drawing up Articles of Impeachment" herself.
As Capitol Hill descends further into chaos while President Donald Trump's faithful show their support with civil unrest, Hollywood is making one thing very clear: They want him out, and fast.
While there's only 14 days until President-elect Joe Biden is sworn into office, many big names believe that's two weeks too many to have Trump in the White House. So far, there's been a lot of social media chatter about Vice President Mike Pence invoking the 25th amendment to get him out, or an impeachment and immediate removal from office.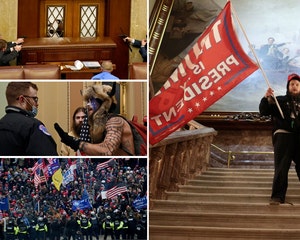 Celebrities React as Trump Supporters Storm the Capitol: 'Horrific,' 'Stupid,' 'Lock Them Up'
On Wednesday afternoon, Congresswoman Ilhan Omar tweeted out that she was already drawing up Articles of Impeachment for Trump. She wrote, "Donald J. Trump should be impeached by the House of Representatives & removed from office by the United States Senate" and added, "We can't allow him to remain in office, it's a matter of preserving our Republic and we need to fulfill our oath."
Congresswoman Ayanna Pressley agreed, tweeting that Trump "should immediately be impeached by the House of Representatives & removed from office by the United States Senate as soon as Congress reconvenes. This is dangerous & unacceptable." Also on board was Congressman David Cicilline, who wrote, "This is outrageous, and the president caused it. We should impeach and convict him tomorrow."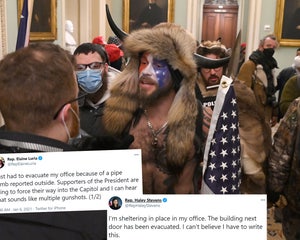 Congress Members Trapped in Capitol Hill Tweet in Fear Amid Bomb Threat and Gunfire
Congressman Ted Lieu, meanwhile, told Pence, "You need to start the 25th Amendment. @RealDonaldTrump is detached from reality." Agreeing with him was The National Association of Manufacturers, who released a statement saying the VP should "seriously consider working with the Cabinet to invoke the 25th Amendment to preserve democracy."
The 25th Amendment gives the VP and a majority of the sitting cabinet members the power to legally remove the president from office if they believe he's "unable to discharge the powers and duties of his office."
While it remains to be seen whether any of this will actually happen, celebrities are trying to manifest either option into existence. See all the supporters below.
Waiting for your permission to load the Instagram Media.
Instagram Media Unavailable
Source: Read Full Article