This Is What Kourtney Kardashian Eats In a Typical Day While Staying Keto
Say what you want about the Kardashian family, but there'sno denying one simple fact: they all have rockin' bods. Part of this isgenetics. But there's also a fair amount of work that goes into maintainingenviable physiques even after having multiple children and getting older.
Kourtney Kardashian is no exception. She may be a 40-year-oldmother of 3, but the oldest sister in the Kar-Jenner clan is the opposite offrumpy. In fact, these days she's looking better than ever thanks to her dedicationto diet and exercise.
What exactly is Kourtney doing to stay fit? She recently sharedthe secret to her flawless figure and even broke down exactly what she eatsin a typical day.
Kourtney Kardashian swears by a keto diet
There's more than one celebrity jumping on the ketodiet bandwagon. This slightly controversial, incredibly restrictive way ofeating basically eliminates carbs. Followers focus on consuming high-fat foodssuch as fish, red meat, avocados, oils, vegetables, and nuts while avoiding bread,beans, grains, pasta, potatoes, and most fruit. The idea behind the diet is to forcethe body into a state of ketosis where it burns fat for fuel rather than carbs.
Does it work? Kourtney says yes it does. "My body never looked better than when I didthe keto diet two and half years ago, when I did it for two months," she explained in a post onher website Poosh. "In my experience, I've found the best method to train mybody to curb sugar cravings, burn fat, and kick-start weight loss is bysticking to a keto diet."
Here's a typical day ofmeals for Kourtney Kardashian
So without pasta andbread, what exactly is Kourtney eating? The KUWTK star broke it down forcurious fans.
For Kourtney's firstmeal of the day, she says she makes an avocado smoothie with a few drops ofstevia for sweetness (sugar is also forbidden on keto, even natural sugars likehoney and maple syrup which have too many carbs). Next for lunch she chooses aveggie-packed salad with added protein in the form of turkey or egg whites.
Dinner is usually somethingsimple like chicken or salmon with a side of veggies. She chooses shreddedveggies to trick her brain into thinking she's having carbs.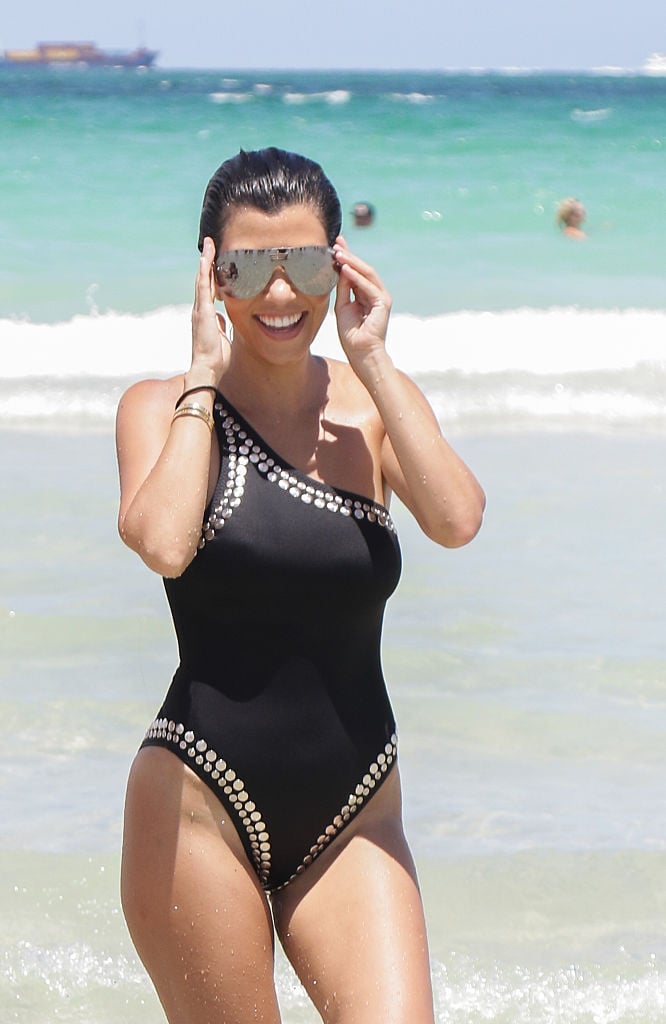 When she's not eatingketo, she's not eating at all
Intermittent fasting is popularin the keto community and Kourtney Kardashian is a fan of the practice. Whenshe's on keto, Kourtney skips snacks and curbs her appetite with some bonebroth, green tea, or a handful of nuts.
Kourtney made it a habit to fast for 14 to 16 hours after dinner and also did a 24 hour fast one day per week the last time she did keto. During her fasting period, she used collagen powder to help her empty stomach feel full.
Is the keto diet safe?
The keto diet is verypopular right now but long-term effects of extreme carb cutting arerelatively unknown. Despite these risks, Kourtney is planning to do a keto dietagain in anticipation of this summer.
"Mybody never looked better than when I did the keto diet two and half years ago,when I did it for two months," Kourtney explained in her post. "In myexperience, I've found the best method to train my body to curb sugar cravings,burn fat, and kick-start weight loss is by sticking to a keto diet."
Wewish Kourtney her best on her keto journey!
Source: Read Full Article