The Truth About Operation London Bridge
She is revered around the world and has been the only British monarch most of us have ever known, so when Queen Elizabeth II dies, it'll be profound. Whether you're a monarchist or not, it'll be one of those "where were you when you found out?" moments upon hearing of her death, perhaps only comparable to Princess Diana and Prince Philip's deaths.
Despite being something we're only somewhat emotionally prepared for, given the queen is now 95 years old, when Philip died in April 2021, the British public was still "heartbroken," per Daily Mail. While it's never easy thinking about death, for some royal and media officials behind-the-scenes, it's their job to not only regularly consider it, but also provide a meticulous course of action for when it does happen. 
While Prince Philip's arrangements provided some problems due to the COVID-19 pandemic, it represented decades of updated plans and measures. His funeral may have only been a fraction of its original size, but it still followed Philip's wishes of being held at St. George's Chapel in Windsor Castle with a national minute of silence prior, per Marie Claire. The world will also be at a standstill when the queen passes, but that's one of the few commonalities between her and Philip's plans.
And it's made all the more palpable with the two royals' differing death code words. Philip's was "Operation Forth Bridge," while the queen's is "Operation London Bridge" … almost fitting that the longest-reigning monarch in British history is nicknamed after its capital's most famous landmark.
The queen's physician will be the first to learn of her death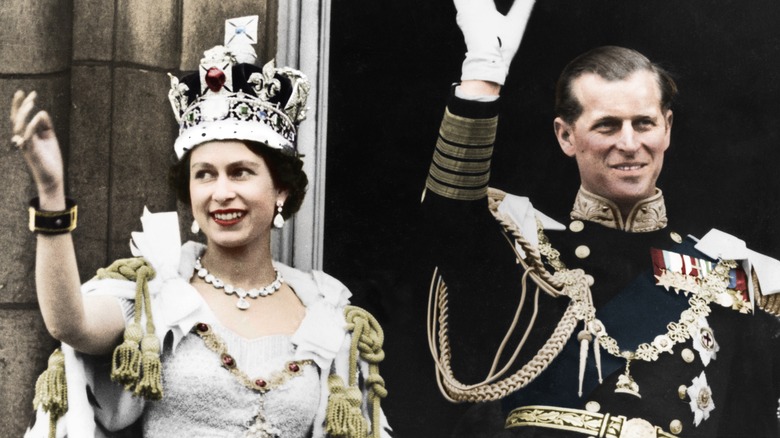 Queen Elizabeth's scrupulous funeral plans date back to the 1960s, according to The Guardian. The publication, which published a thorough profile on "Operation London Bridge" back in 2017, said the plans are revised yearly to accommodate new people. But some aspects of Queen Elizabeth's arrangements remain unchanged, like how her death will first be confirmed by her long-time personal physician, gastroenterologist Professor Huw Thomas, before family members are notified.
The next to know will be the queen's private secretary, who will deal with the official distribution of news. Originally this position was taken up by Sir Christopher Geidt, but after he resigned in July 2017, his deputy Sir Edward Young took over. Therefore it's highly likely he'll receive the news — an example of how "Operation London Bridge" requires constant updating. Young will then inform the prime minister, before the news of "London Bridge is down" gets rippled out amongst civil servants via secure telephone conversations.
Following that, "the Foreign Office's Global Response Centre," a seemingly secretive organization based at an "undisclosed location" in London will alert the 15 governments outside the U.K., where the queen is also the head of state, "and the 36 other nations of the Commonwealth for whom she has served as a symbolic figurehead." Finally, the bait will be thrown to the hungry media. And if you assume they just publish in a tizzy, think again. News organizations worldwide have been planning for "D Day," another term for the queen's death for years.
This outlet has been planning the queen's death announcement for decades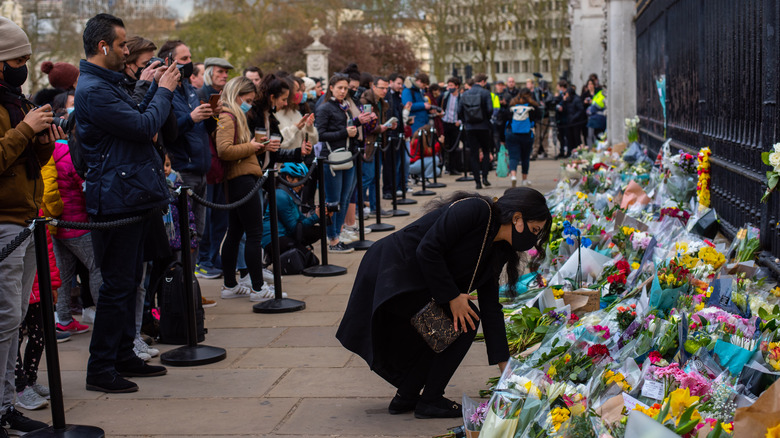 When the previous British monarch, Queen Elizabeth's father King George VI, died on February 6, 1952, the news didn't break until almost four hours later, per The Guardian. But in the advent of social media and instantaneous news, it's expected we might learn of the queen's death far quicker. However, Buckingham Palace didn't issue a statement about Prince Philip's death (whose public memorial is pictured above) until a few hours later (per BBC).
While the BBC has always been the first port-of-call for royal deaths (it was for Philip's), it's reported that a newsflash will be transmitted to the Press Association and other global newswires. Proceeding that, a footman dressed in mourning attire will pin a black-edged notice to Buckingham Palace gates, detailing Britain's 10-day mourning period. At the same time, the palace website will go through its own mourning mode. The Guardian says it'll "be transformed into a sombre, single page, showing the same text on a dark background."
It's believed the BBC has been rehearsing scenarios of the queen's death for over 20 years, while the U.K.'s "The Times is said to have 11 days of coverage ready to go." Huge deals were also previously signed between royal experts and broadcasters to speak exclusively on those channels. "I am going to be sitting outside the doors of the Abbey on a hugely enlarged trestle table commentating to 300 million Americans about this," a royal expert told The Guardian. News readers are also expected to be dressed appropriately by wearing black suits and ties. 
Radio networks in the U.K. will reportedly switch to the this song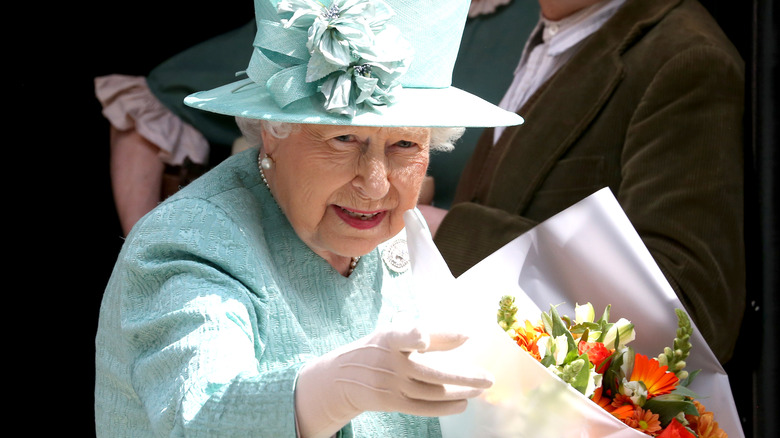 According to The Guardian, the first sign of a British national catastrophe is when your favorite talk-back or groovy tune cuts without warning to a sad song. Every station, including hospital radio, has reportedly prepared sombre music lists apparently called "Mood 2" (sad) or "Mood 1" (saddest), "in times of sudden mourning." BBC Radio producer, Chris Price, told HuffPost in 2011 for listeners to beware of one called "Haunted Dancehall." "If you ever hear Haunted Dancehall (Nursery Remix) by Sabres of Paradise on daytime Radio 1, turn the TV on. Something terrible has just happened," he noted.
Behind-the-scenes, however, a system of blue lights — known as "obit lights" — will start flashing, alerting the DJ to wrap-up ASAP. These lights are reportedly tested weekly. All scheduled programs, whether it be radio or television will then be scrapped for rolling coverage on the queen's death announcement and details. It's then anticipated that businesses will shut early, employees will leave work early and sporting games will be postponed that day, highlighting the disruption and impact of her death.
While she's a person most of us will have never met and a sheer figure-head to some, the queen's death — like other major global events — will be something we'll never forget. Not only will it sadly see the end of her now almost 70-year reign, but will pave the way for a new and perhaps more modern Britain with son Prince Charles to be the first king since 1936.
Source: Read Full Article