Olympic Athletes Who Are Currently In Jail
Of all the dreamy, long-held, bucket list-fulfilling, life-defining, and totally impressive accomplishments of which human beings are capable, few are as illustrious, commendable, and admirable as competing in the Olympics. It must be a tremendous honor, and a confirmation of decades of hard work and sacrifice, to represent one's country at the highest level of global sports. Even if they don't win a gold, silver, or bronze medal, it's still very cool and important to even qualify for the Winter or Summer Olympics.
But despite their almost superhuman athletic prowess, Olympic competitors are still people, and people have flaws, make mistakes, and sometimes get themselves into very serious trouble. Here are some Olympians of the past who, as of 2021, spend their time not in training facilities or standing triumphantly atop a medals platform, but instead in a prison, with the sports stars paying their debt to society after being convicted of some bad and illegal deeds.
Alexis Vila Perdomo helped a businessman kill his wife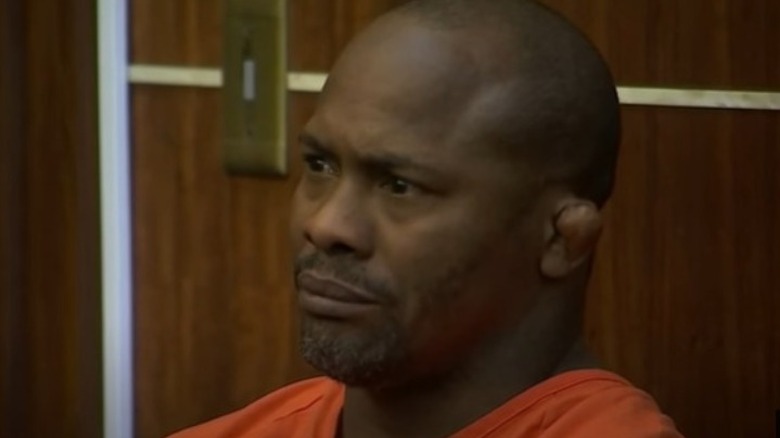 Competing in the light-flyweight class at the 1996 Summer Olympics in Atlanta, Cuban wrestler Alexis Vila Perdomo was expected to do well, having already medaled at world championship events and the Pan American Games. He ultimately took home a bronze medal, and after the Olympics, he defected to the United States. After serving three years in prison on an alleged attempted terrorism charge — he'd crashed a car into a Florida airport building — he switched sports, from wrestling to mixed martial arts, building a respectable record of 15 wins and seven defeats.
In 2011, the murdered body of Camilo Salazar was discovered in a remote section of the Florida Everglades, beaten, bound, brutalized, and semi-burned, according to Miami's Local10. Investigators ascertained that Salazar had been carrying on an affair with Jenny Marin, wife of Presidente Supermarket tycoon Manuel Marin, who had arranged the murder. One of the men who helped Marin execute the plan: Perdomo, convicted in 2019 of conspiracy to commit murder, according to NBC Miami. 
The former athlete received a 15-year prison sentence, less than his associate, ex-fight promoter Roberto Isaac, who got life behind bars.
Hicham Bouaouiche killed a police officer during a robbery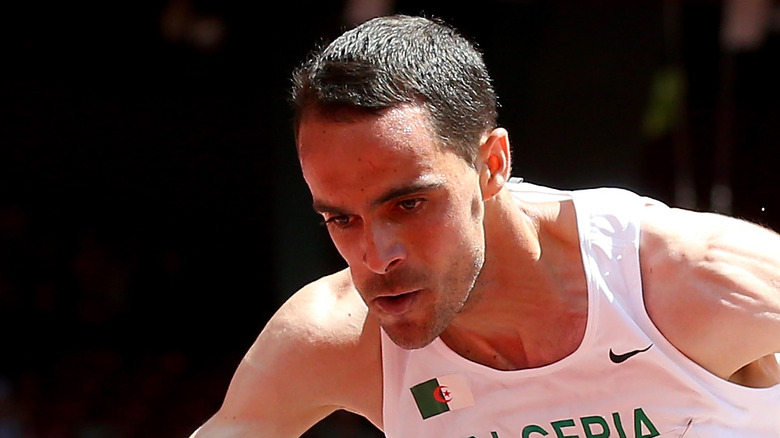 Representing the North African nation of Morocco, according to Olympics.com, Hicham Bouaouiche ran steeplechase, a track and field event that combines a straightforward foot race with numerous, perilous obstacles. Prior to finishing in fifth place in steeplechase at the 1997 World Championships and winning a silver medal as part of the Moroccan team at the 1998 World Cross-Country Championships, Bouaouiche made it to the 1996 Summer Olympics, where he placed 11th in the 3,000 meter iteration of the run.
According to French-language website, Aujourd'Hui, Bouaouiche got very drunk one night in December 2000 and recruited two friends to help him rob an insurance agency office near where he was staying in the southern French town of Pont-Saint-Esprit. The robbery went awry, and in the chaos, Bouaouiche killed a police officer in pursuit. In 2004, Bouaouiche was sentenced to 30 years in prison.
Stefan Denifl was caught up in a doping ring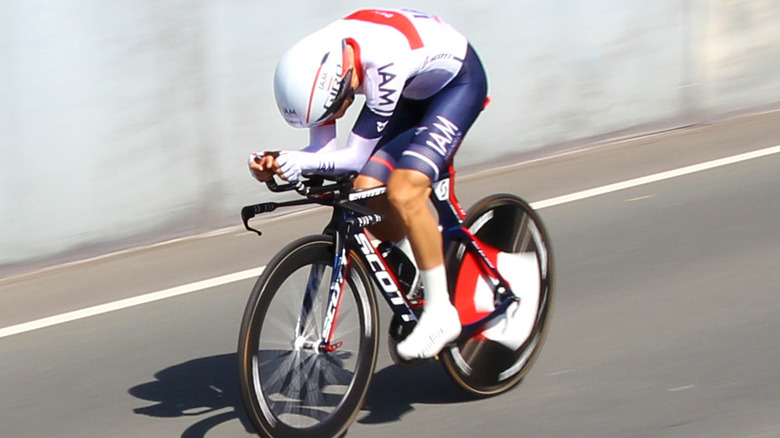 Cycling is a very popular sport in Europe, and Austrian cyclist Stefan Denifl was among its top competitors in the 2000s and 2010s. In one of the highest profile events in road cycling, the sport's event at the 2016 Summer Olympics in Rio de Janeiro, Denifl competed but did not medal — he had to drop out of the race before he could finish, according to Cycling News.
Per First Post, Austrian skier Johannes Duerr appeared in a documentary for German TV in the 2010s, admitting that he'd been part of a ring that used illegal, athletic performance enhancing substances and techniques. That led to Aderlass, or "bloodletting," a probe and raids by the Austrian Federal Criminal Police Office (via Cycling News), which ensured Denifl's involvement. In 2019, the cyclist was banned from competition in his sport for four years, but he still faced criminal charges over doping. In February 2020, he admitted in a Vienna courtroom that he'd engaged in illegal behaviors, and he was found guilty of fraud. 
In January 2021, Denifl was fined the equivalent of $424,000 and sentenced to two years in prison.
Thomas Gerull stole money from thousands of investors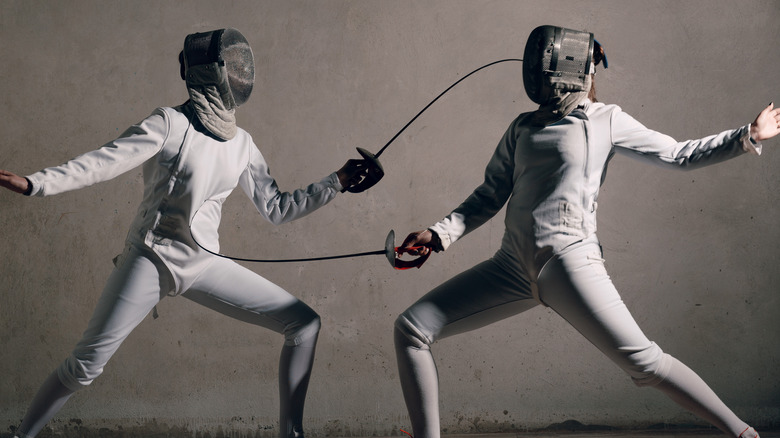 Representing West Germany (at the time, Germany was split into two nations), Thomas Gerull (not pictured) made it to the absolute top world stage in the sport of fencing in 1988, competing in multiple épee-based events in the Summer Olympics held in Seoul, South Korea. In individual competition, he finished in 23rd place, but as a member of the West German team, he won a silver medal with his fellow countrymen in the group event. (Two years later, at the fencing world championships, Gerull won a gold medal.) For his accomplishments on the fencing mat, Gerull received the Silver Bay Leaf, which, according to Olympedia, is the top honor a German sportsperson can receive.
After he aged out of competitive fencing, Gerull went to work as a financial consultant, teaming up with his twin brother, Michael. In 2016, both Gerull brothers were implicated in a financial scandal, accused of bilking more than 25,000 modest German investors out of their money, which they lost. For his financial crimes, Thomas Gerull was sentenced to eight years in prison.
Patric Suter participated in three murders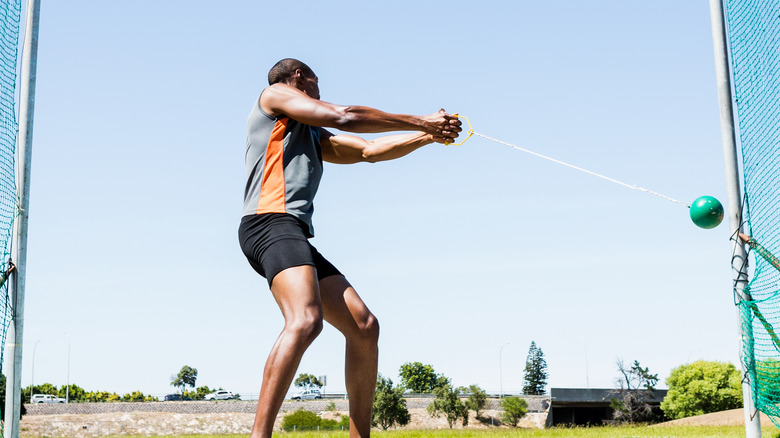 The hammer throw is one of the purest displays of strength and athletic ability, and arguably nobody from Switzerland was ever better at this track and field event than Patric Suter (not pictured). In 2003, he set a national record — which still stands — when he threw that heavy object 80.51 meters. Suter also took part in world-class competitions in the 1990s and early 2000s, culminating in a spot on the Swiss Olympic team for the 2004 Summer Games in Athens, Greece. In the hammer throw event, he finished in 23rd place.
Suter retired from competition in 2007, but he'd later make headlines for non-sports reasons. According to The Local, Suter and two associates entered the home of married couple Margrit and Pierre-André Dubey and their adult daughter, Dania, with plans to rob them. By the time the horrific episode was over, Margarit and Dania Dubey had been suffocated and strangled to death, respectively. For his part, Suter had personally broken Pierre-André Dubey's rib and suffocated him with a pillow, before shooting him in the head. 
Suter confessed to the triple homicide in 2009, and in 2012 was sentenced to life in prison.
Oscar Pistorius claimed he accidentally killed his girlfriend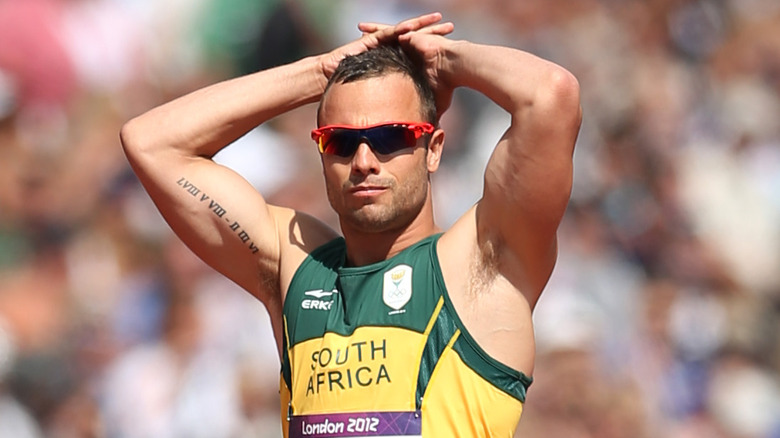 According to Fox Sports, South African sprinter Oscar Pistorius was born with a congenital defect that left him without fibula bones. That led doctors to amputate both of his legs, below the knee, just before his first birthday. Nevertheless, Pistorius became a champion athlete, running on prosthetic, blade-like appendages made of carbon. At the 2004 Paralympics in Athens, Greece, according to CNN, Pistorius won a gold medal in the 200 meter, and a bronze in the 100, the first of a total of six top finishes. In 2012, the runner made history when he became the first double amputee to run in the Summer Olympics, competing in the London games.
Pistorius lived on an estate outside Pretoria, South Africa, and in the early hours of Valentine's Day 2013, he heard what he thought, as he'd later testify, was an intruder in his bathroom. According to the AP, before verifying the identity of the individual, Pistorius opened fire, shooting through the door. There was no burglar, however — Pistorius had shot and killed his girlfriend, model and reality TV participant Reeva Steenkamp. 
Prosecutors in South Africa, however, argued that the couple had been fighting, and that Pistorius had shot Steenkamp with murderous intent. Pistorius was convicted of manslaughter, a ruling later overturned on appeal, only for the athlete to be convicted in July 2016 of murder with indirect intent. He received a prison sentence of six years, far less than the maximum sentence of 15 years.
Igor Paklin beat his business partner to death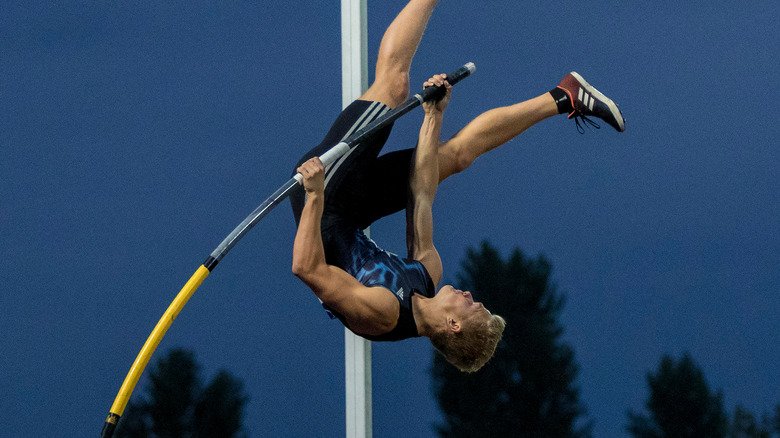 In the waning days of the Soviet Union, Igor Paklin (not pictured) was a standout on the country's national track and field team. Specializing as a high jumper, the Kyrgyzstan-born athlete finished in seventh place in the 1988 Summer Olympics in Seoul, South Korea, and fell to 22nd place in the Barcelona games four years later. Prior to his Olympics appearances, Paklin's personal best of 2.41 meters (about eight feet) at the 1985 World University Games was also the all-time world record, according to the AP.
Paklin's post-athletic days were less than glorious, however. According to the book, "Russian Organized Crime," Paklin was appointed as the vice-president of the Kyrgyzstan national athletic office and also operated some business interests with a partner. In 1995, that individual died after sustaining serious injuries in a brutal assault. Paklin, along with a friend, was arrested and convicted of manslaughter for his role in the attack.
Iñaki Urdangarín embezzled from his own charity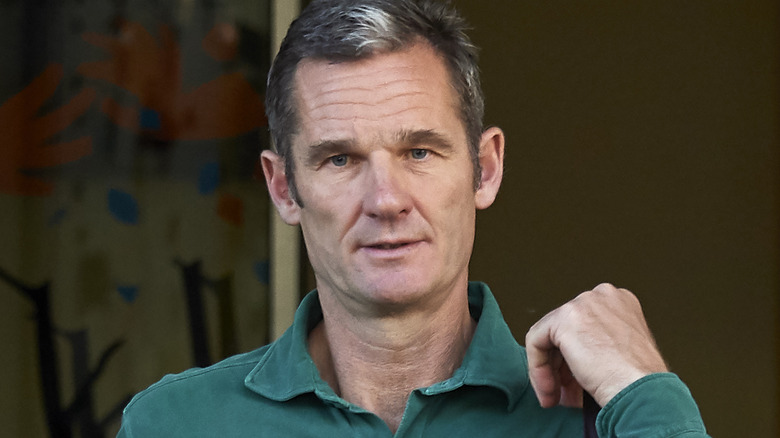 Handball, a get-the-thing-into-the-net sport similar to soccer or hockey, is extremely popular in Europe, where there are many professional leagues. Spain-born handball star Iñaki Urdangarín played for FC Barcelona in the 1980s and 1990s, and in 1996 and 2000 he found Olympic glory — and won two bronze medals — as part of Spain's national team, according to NPR. Urdangarín was already a famous athlete in Spain when he upped his celebrity quotient even more, marrying Princess Cristina, sister of the country's King Felipe VI, according to the AP.
According to Handball Planet, Urdangarín ran a nonprofit called the Noos Foundation. Via his company, prosecutors in Spain alleged, the athlete used his adjacency to the royal family to land contracts to stage events, for which he overcharged and then stole money and hid it in foreign accounts. In 2017, a provincial court convicted Urdangarín of embezzling the equivalent of $7 million between 2004 and 2006, and he was sentenced to six years in prison. 
In 2021, according to EuroWeekly News, the ex-athlete earned a conditional release, spending weeknights in prison and weekends at home with his mother.
Source: Read Full Article