Meghan Markle Posing with a Kate Middleton Tabloid Cover Just Made My Damn Day
Remember back in the day before Meghan Markle was a Duchess and she was busy acting in the criminally underrated show Suits, running her lifestyle blog, and being an Instagram influencer? Well, apparently during this glorious era (2014 to be exact), Meghan was featured in U Magazine (she wrote a little piece about sunglasses) and posed with the cover. And uh, that cover featured a giant picture of Kate Middleton with the word "TWINS" splashed across the front.
Royal fans recently unearthed the photo of Meghan and her future sister-in-law, and it's currently making the rounds on social media. The origins are somewhat unclear, but here ya go:
Back in 2014, Meghan was featured in U Magazine and have a look at who is on the cover! 📸 Crazy how life works out now they're sisters-in-law! 😂😭👭👑 . . Meghan & Harry met in 2016, got engaged in 2017, got married in 2018 and had their first child, Archie in 2019👪 . . #duchessofsussex #meghanmarkle #princeharry #britishroyalfamily #royalfamily #royals #archieharrison
A post shared by Meghan (@_duchess_of_sussex) on
It's wild to think Harry and Meghan met just a few years after this photo was taken, and that she and Kate Middleton are literally family now. Obviously, there are reports that their relationship is strained, but a source recently told Hello Magazine (via the Daily Mail) that "Kate was a great source of support to Meghan in the days leading up to Archie's birth. Despite reports of a rift, they are family and have a really lovely friendship. Their relationship has certainly evolved over time and they have become closer since Meghan's wedding."
The source also said that "They talk and text regularly,"and that "They have more in common, and Kate has wanted to make sure Meghan has felt welcome into the family."
Guess a lot can change in five years!!!!!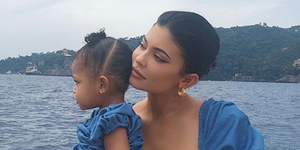 Source: Read Full Article