The Ultimate Guide To Achieving A Trendy VSCO Girl Aesthetic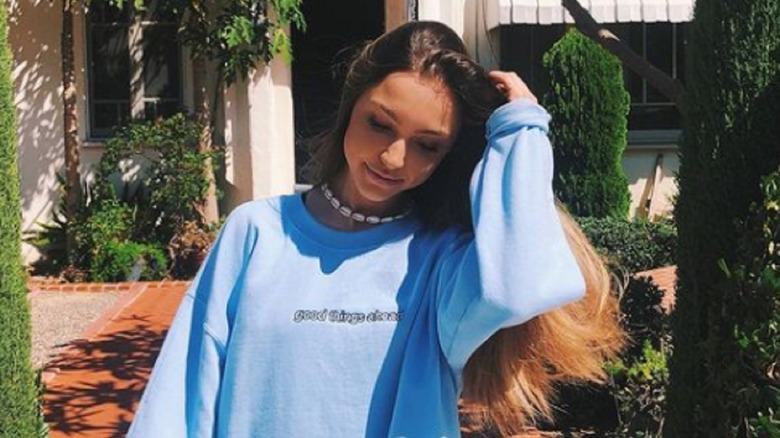 Move aside, Tumblr girls. There's a new aesthetic in town. Back in 2019, the VSCO girl, with her eco-friendly, beachy vibes, took over the internet. The VSCO girl aesthetic was inspired by the VSCO phone editing app that enables users to apply high-contrast, temperature-warped filters to their Instagram photos, per Vox. Typically, VSCO girls are middle- to upper-class Gen-Zers who wear scrunchies, Brandy Melville tops, slip-on vans or Birkenstocks, a puka shell choker, and minimal makeup to achieve an early 2000s beachy vibe, evocative of the movie "Blue Crush."
Before purchasing an entirely new wardrobe to mimic this style, you'll first want to get a sense of what the VSCO girl does during an average day. According to BuzzFeed News, VSCO girls enjoy heading to the beach in their Jeeps and taking filtered pictures of the sunset. "They always look like they're doing everything effortlessly even when it comes to their 'natural dewy' makeup and 'beachy waves' hair," YouTuber Mai Pham told BuzzFeed News. "And they're constantly taking pictures with their Polaroids and disposable cameras." When they're not taking photos, VSCO girls will read articles about the environment while they lounge in their bed framed by string lights. Here's how to adopt the VSCO girl aesthetic yourself.
VSCO girls are all about keeping it casual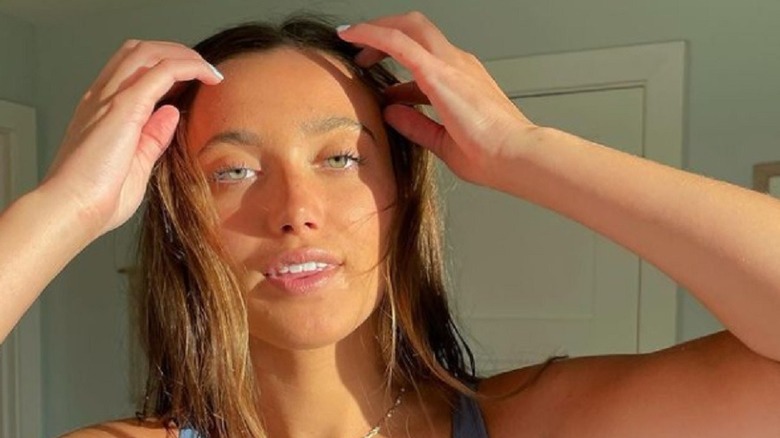 Though VSCO girls are known for keeping their fashion fairly casual, there is still a set wardrobe to be followed. According to PopSugar, most VSCO girls stick to a look that revolves around wardrobe staples like Brandy Melville crop tops, tube tops, cutoff denim shorts, and oversized tees from trendy teen stores like Urban Outfitters. Shoes include Birkenstock sandals, slip-on checkered Vans, and Crocs. Accessories, like puka shell necklaces, handmade friendship bracelets from Pura Vida, and Fjällrävan backpacks, really drive home the casual, beachy vibes of the VSCO girl look. 
In keeping with the beachy vibes, VSCO girls keep their makeup and hair routines fairly minimal. Typically, the VSCO girl will apply lip balm or lip gloss, a facial spray with rosewater, sunscreen, and mascara, according to Teen Vogue. To achieve those beachy waves now popular with VSCO girls, you'll simply need to purchase a curling iron and sea salt spray. On the days you don't feel up for styling your hair, simply pull it up into an oversized scrunchie — because every VSCO girl keeps a large scrunchie collection on hand at all times.
Source: Read Full Article