Stylish Summer Updos For Thin Hair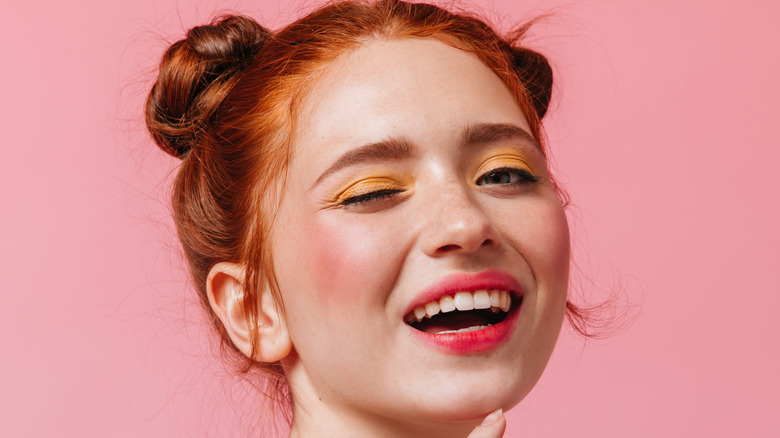 Having fine hair isn't easy when the entire beauty industry is against you. Since a young age we've been bombarded by commercials, magazines and products promising us that thick, voluminous hair is where its at, but we're here to tell you that times have changed. Thin hair can be equally as glamorous as thick hair, as long as you know how to style it.
Fine hair comes from your genes. It doesn't necessarily mean you have fewer hair follicles, just that the diameter, circumference and width of your strands are thinner (via It's A 10 Haircare). Beauty industry consultant and former senior vice president of Living Proof, Eric Spengler, explains that, "Fine hair has a typical diameter of about 50 microns" (via Byrdie). That's about half the thickness of a piece of paper.   
Even celebrity hair stylist Harry Josh agrees that knowing your hair density is vital for determining "the best products, cuts, and styles to work for you" (via Byrdie). As far as products go, choose sulfate-free, lightweight shampoos to accentuate your hair's natural weight. Self also recommends styling tricks like parting your hair the opposite way, blowdrying your hair upside down or teasing your hair at the root.
As the summer months, and rising temperatures, approach, fine-haired beauties also have the option of piling their hair up. We've sorted through a variety of updos and curated a list of the best looks for creating texture and movement in even the thinnest strands.
Skip the part with a front pouf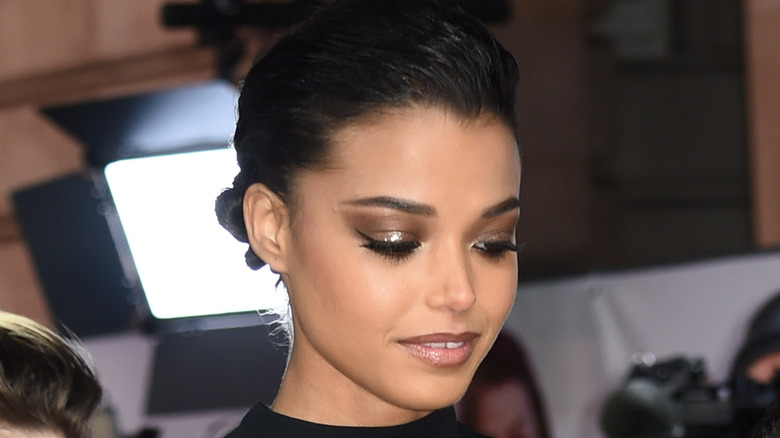 According to Byrdie, eliminating the part and simply pulling the hair back will create a natural volume for fine-haired tresses. This is because the eye can no longer see where your scalp starts and your hair begins. All you're left with is the illusion of fuller tresses.  If you're having a hard time letting go of the part, no worries! Opt for a hair powder or eye shadow matching your hair shade and fill in your scalp to help define any precise parting lines. 
Pro tip: Add extra volume to your no-part or filled-in part with a front pouf. We're not talking a 2006 "Snooki-era" bump-it, just a little extra bulk at the crown to achieve height. Before teasing, make sure your desired style (bun or pony) is secured with bobby pins or an elastic. Then, go to town! Backcomb from the root out to put the finishing touch on your new 'do (via Hair).
Use texture to create contrast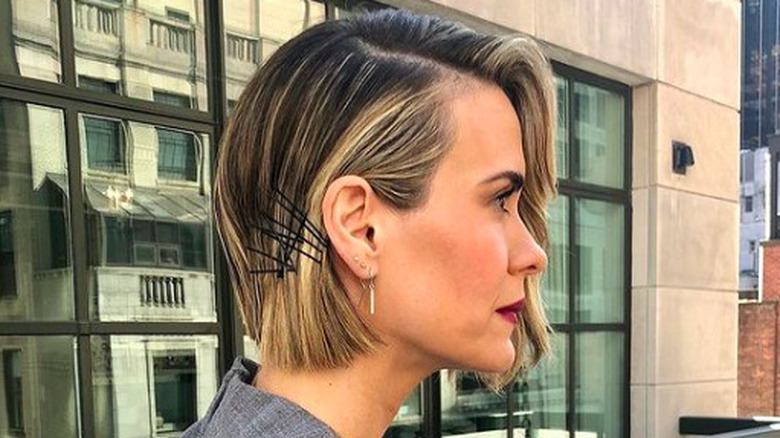 Contrast in texture, such as wavy vs. stick straight, offers a story for the eyes to follow, flawlessly providing the hair with movement and volume. A dramatic side parting between textures is a sure-fire technique to make your hair really pop! However, don't skip the prep work. Before adding any texture to fine hair with heating tools, you'll first want to prime it (via Byrdie).
That means applying an even layer of mousse (ideally of the volumizing variety) into dry or damp hair. Start from the roots and work your way down, blow-drying the product into your hair. Paul Mitchell suggests using no more than 290-330°F (143-166°C) temperatures. Flip your head upside down and side to side as you work your way through your tresses. Once hair is fully dry, Byrdie recommends using Bumble & Bumble's Dry Spun Thickening Spray to plump fine strands and give them texture, all while protecting them from damaging heat (via Amazon).
Style your updo with accessories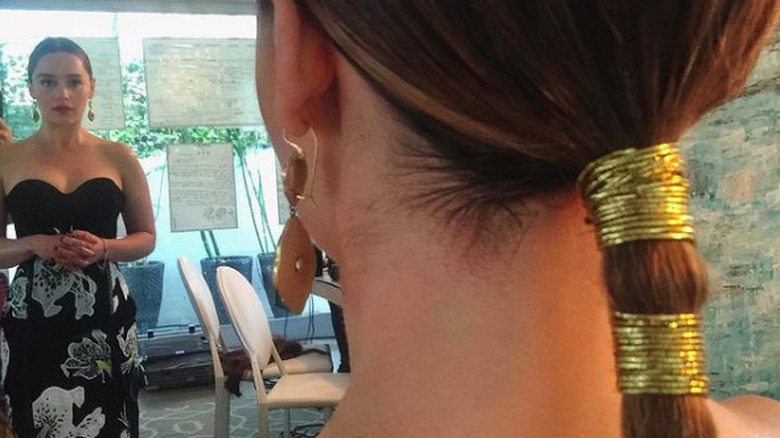 Byrdie has a number of chic summer hair accents they recommend to give your updo an air of decadence and save time. To invoke your inner earth goddess, add a flower adornment. Whether you opt for a classic single stem or ornate flower crown, eyes will be drawn to your tresses. Another accessory that eliminates the need for lengthy styling is hair freckles. 
Hair stickers, or freckles, offer a mystical element. These stickers adhere easily to the hair and come in a number of styles including pearls and gemstones. Easily coordinate your outfit and hair with the right color and prepare to be bombarded with compliments for the rest of your day.
If you have an extra ten minutes to spare, opt for hair origami. This involves wrapping a metallic cord through your chosen 'do. If you're partial to buns simply secure an elastic around the center to create a figure-8 shape. Weave your cord through and… voila! Origami buns. If ponytails are your signature "lewk," check out the bubble pony tail (via Luxy Hair). But instead of securing your own strands around the pony, use a gold or silver cord for a glamorous gladiator aesthetic. 
Source: Read Full Article