I Got the Prettiest Manicure of My Life With BIAB Nails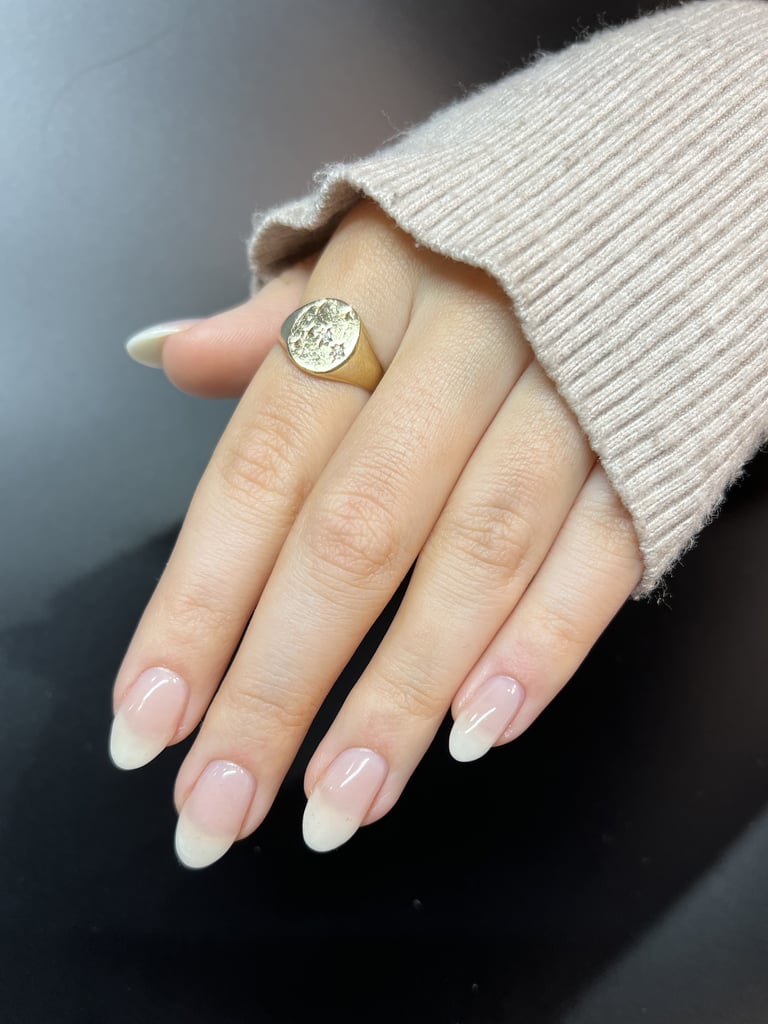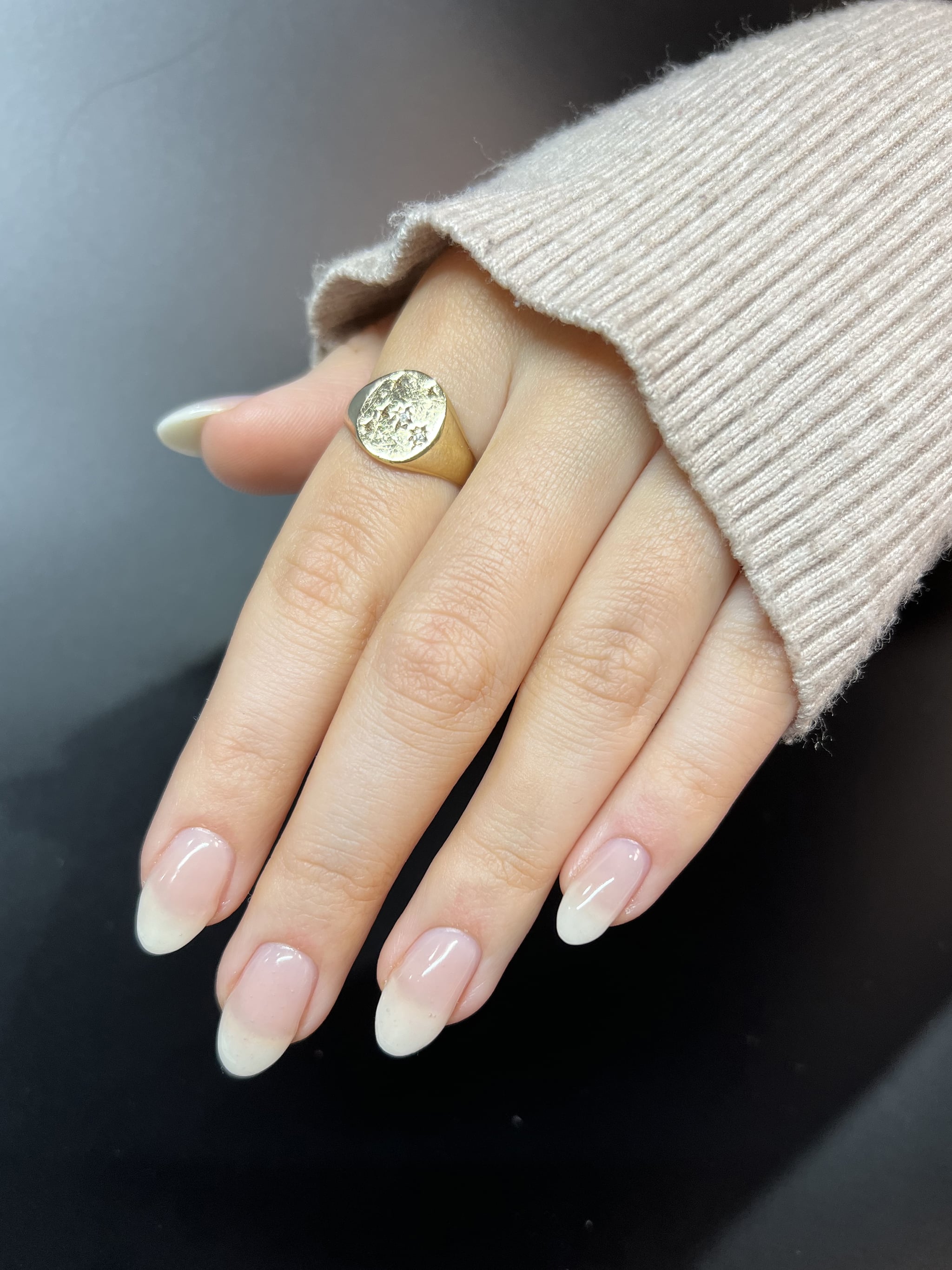 Getting my nails doneis one of my favorite things. I've tried everything from dip powder to Aprés Gel-X extensions and, of course, your regular old manicure, but BIAB nails were new to me. It took me working in the beauty industry for years to even hear about the technique, and the more I explored it, the more fascinated I became. I needed to try it for myself.
Here's the thing: BIAB nails, which stands for "builder in a bottle," have become a little bit of a rarity in the days of tips. Why? Well, as with most art forms, the process is painstakingly slow and meticulous — but the results speak for themselves. BIAB nails are a form of structured or sculpted-gel manicure, and use forms and a semi-hard gel to build length to your fingertips. The result is a highly customized, natural look.
As someone who struggles to maintain the length of my nails due to breakage, the idea of literally building length from nothing was exciting. To try it out, I visited Julie Kandalec, a celebrity nail artist whose list of clientele boasts names like Jessica Chastain, Anya Taylor-Joy, Joe Jonas, Emily Blunt, and more.
Leading up to my appointment with, I stalked her Instagram account looking for nail inspiration — as one does before going to any salon — and landed on a milky pink-to-white nail style that was ultra chic and minimal, Kandalec's specialty. As soon as I sat down in her chair, we chatted about my natural nails — how healthy they were, what my style was, and the like. Then, after showing her my reference photo, we got started.
Step 1: Trim, Buff, and File Natural Nails
To my surprise, she started my trimming my natural nails. The reason: the design I wanted was slightly sheer, so she wanted to ensure they wouldn't be visible underneath. Also, my nails weren't in the best shape so she said I'd be able to start fresh with the help of BIAB.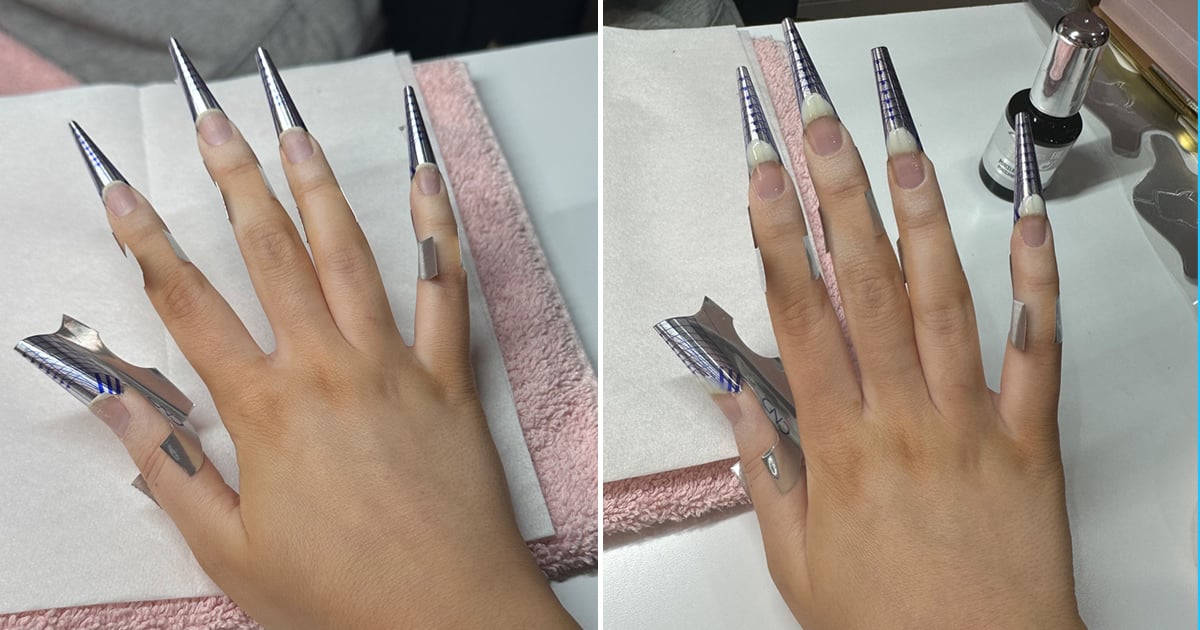 Then she filed, buffed, and clipped any hangnails from my cuticles and nail bed using an ultra-fine electric drill bit — similar to a Russian manicure. Once my nails were the cleanest they've ever been, it was time to start the BIAB sculpting process using CND World products.
Step 2: Apply the Sculpting Gel
It begins with a primer, which is cured under an LED lamp. Then Kandalec wrapped adhesive foil forms to the tips of my fingers to act as a guide for the sculpting gel. Because we were doing a white and pink design, she used a white builder gel to form short-to-medium-length oval-shaped tips. This step involved two rounds with LED curing in between each layer.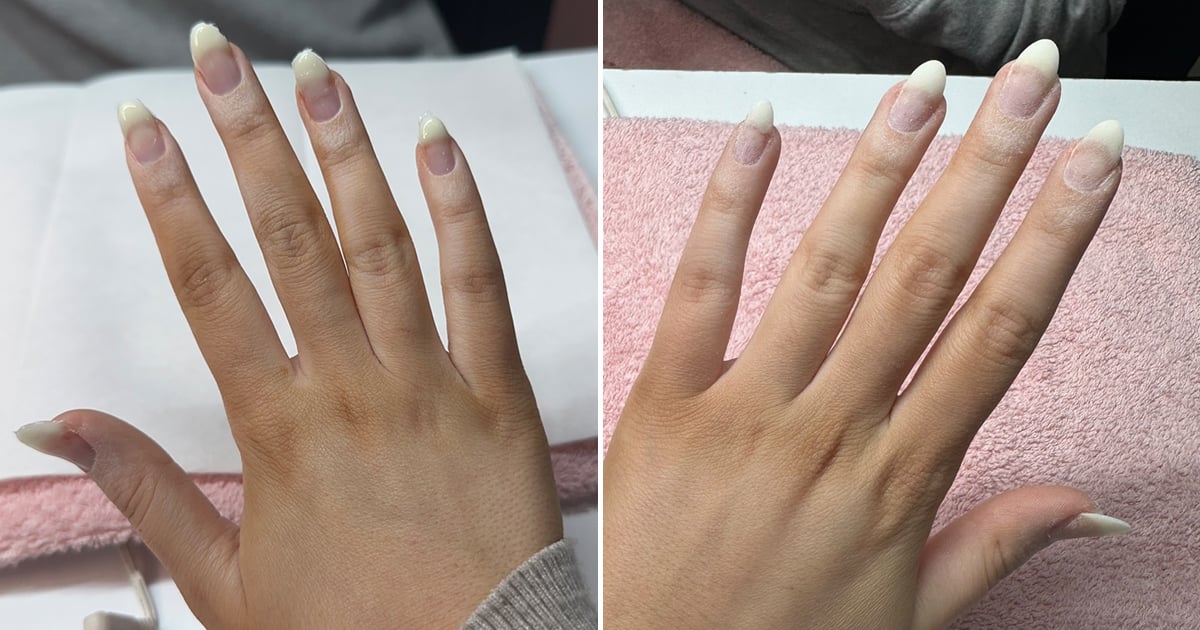 Step 3: File, Buff, and Shape Sculpting Gel
After that, the foil guides were removed from the ends of my fingertips, revealing my new nails. Then it was time to file and buff the gel into my desired shape before moving on to color. At this stage, the sculpted-gel tips looked like my natural nails (if my natural nails were perfectly, that is). Finally, after all of that prep, it was time to add some color. Because I wanted that soft ombré look, Kandalec and I landed on a sheer pink that would add a touch of pigment without completely covering the color of the tips we added. We ended up doing two coats, curing between each layer.
Step 4: Add Gel Color
At this point, the color looked great, but we weren't done just yet. Another layer of clear BIAB gel was added on top of each finger and cured to add strength to the tips — this is key to building length out of nothing but gel. Finally, it was time to add a no-wipe top coat, which gave my nails next-level shine, much like the "lip gloss" nails trend.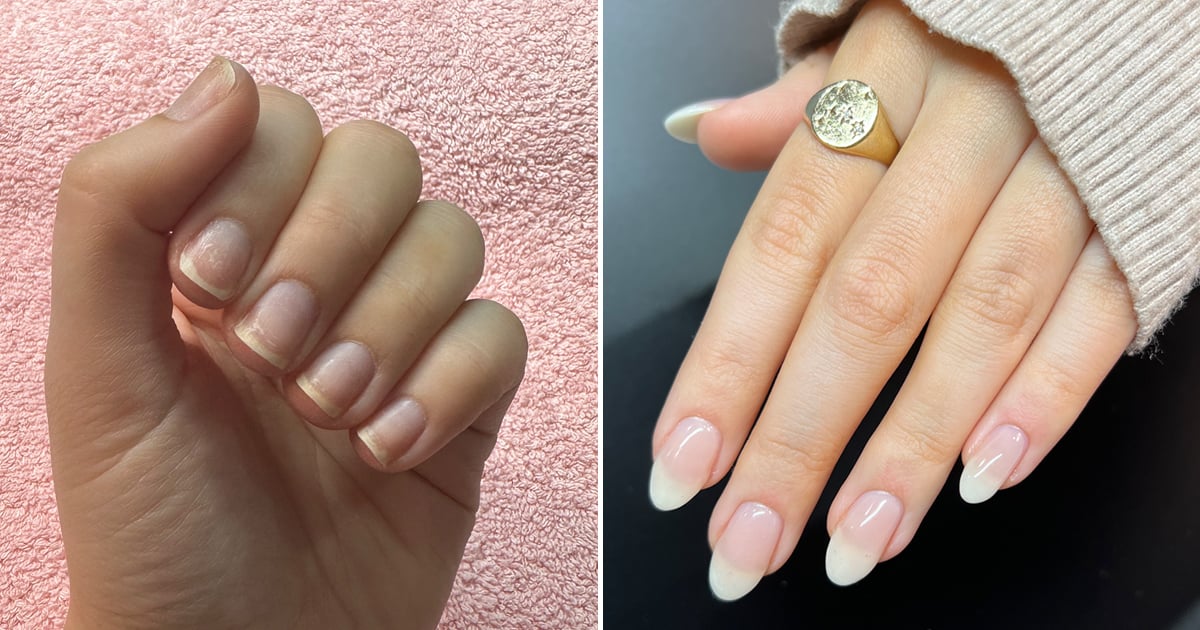 Finally, after what felt like 50steps later, I had the most perfect manicure of my life. The sculpted tips looked like a natural extension of my fingers and felt really strong without being bulky. I also couldn't have been more in love with the style I picked. Kandalec explained that these nails can last me around four weeks, and thanks to the neutral base color we went with, will grow out seamlessly.
In the days following my manicure appointment, I got numerous comments from friends (and strangers) asking if these are my real nails. One person even asked to take a picture to save as wedding manicure inspiration. Needless to say: I'm obsessed with BIAB nails.
Source: Read Full Article